About Bhainsrorgarh Fort
A fortified outpost of the kingdom of Mewar that included Chittorgarh and Udaipur, Bhainsrorgarh is located 235 kilometers northeast of Udaipur and 50 kilometers south of Kota and has a remarkable history. Built by Rawat Lal Singh (second son of Rawat Kesri Singh of Salumber), Bhainsrorgarh was granted as a jagir ( fiefdom ) by Maharana Jagat Singh II of Mewar in 1741 A.D. Dramatically perched over the shimmering Chambal river, on a steep slate ridge about 200 ft high, your first glimpse of Bhainsrorgarh Fort will literally take your breath away.
British historian Col. James Todd after seeing the splendid and mesmerizing beauty of Bhainsrorgarh said that if he was offered a Jagir in Rajasthan and given the option to choose, it would be Bhainsrorgarh. Little wonder, Bhainsrorgarh has been rated as the Best Heritage Hotel in India by Tatler Travel Guide, UK. ( 2008, 2009 ).
Bhainsrorgarh held great importance to the Chundawat clan of Sisodia Rajputs, as it was granted to Rao Chunda after he renounced the Mewar throne for his yet to be born younger brother. As the eldest son of Rana Lakha, then ruler of Mewar, Chunda Ji was the heir apparent to the throne of Chittor. The Chief of Bhainsrorgarh was counted among the 16 first class nobles of Mewar and was conferred the title of Rawat by Maharana of Mewar.
Available Rooms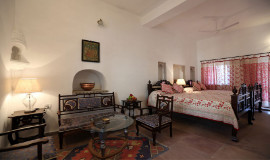 Suite-Himmat Vilas/Chunda Ji/Fateh/Bhainsrorgarh
Max Guests:

2 persons
PER/NIGHT₹12744
₹14160

All Meal
On the ground floor is Himmat Vilas Suite named after Late Rawat Himmat Singhji, a renowned poet and father of the present owner Rawat Shiv Charan Singhji. This suite has a private terrace and balcony, overlooks the garden and has views of the river.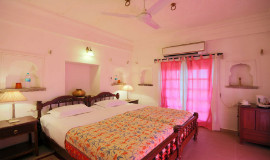 Deluxe Room
Max Guests:

2 persons
PER/NIGHT₹9558
₹10620

All Meal
There are two suites on the first floor - Chunda ji Suite and Maharana Fateh Singh Suite, also called Fateh Vilas. Chundaji Suite has the river on one side and the garden on the other while Fateh Vilas suite has a balcony overlooking the river.