About Itmenaan Estate
The 100-year-old traditional Kumaoni style stone house in the resort has been painstakingly restored and offers 3 tastefully designed en suite bedrooms. Near to this house is a large two-story independent cottage built in traditional style. In and around the resort are abundant places for you to unwind and relax the courtyard overlooking the mountains and verdant valleys, the semi open-air dining area, numerous nooks and corners perfect for reading or for fulfilling your spiritual quest.
Itmenaan Estate is a fairytale resort in a peaceful rural setting near Binsar in the Kumaon Himalayas. Enjoy mesmerising views of mountains and valleys. Fill your senses with the scent of the earth. Stare at countless stars that enlighten the night sky. Read, write or paint in the tranquil and scenic surroundings. Partake in invigorating farming, gardening and bee keeping activities. Take leisurely walks or challenge yourself on the trekking trails and enjoy sumptuous picnic hampers that accompany your explorations.
Available Rooms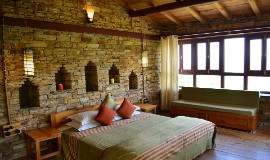 Kafal Room
Max Guests:

3 persons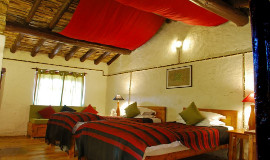 Oak Rooms
Max Guests:

3 persons
Surrounded by forests, orchards and terraced fields, and with stunning views of snow-capped Himalayas, is our 100-year-old painstakingly restored traditional Kumaoni style stone house. The house offers 3 tastefully designed bedrooms, Oak Room 1, Oak Room 2 and Kafal Room, all offering attached bathrooms and a day bed by the window .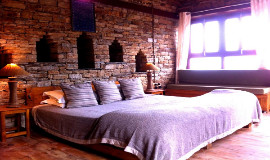 Deodar Cottage
Max Guests:

3 persons
Located close to the main house is the newly built spacious two-storey Deodar Cottage. The cottage has been painstakingly built over a period of one year in traditional local architecture that involves stacking local stones one above the other without using any cementing material in a ?dry stack?, locally called ?kori chinai?. With a large bedroom on level-2 and a sitting room on level-1, the cottage offers stunning views of the valley and Himalayan peaks.
Amenities
Wi-Fi Internet*

Bicycles on hire*