About Ken River Lodge
Ken River Lodge made a humble start in 1986 one of the pioneers of wildlife tourism in the country. Driven by passion for wildlife and conservation encouraged Shyamendra Singh, grandson of Maharaja of Nagod to establish the lodge. The lodge has been washed out twice in the floods of 1992 and 2007 but has been rebuilt with the same zeal and passion.
The lodge is set in a forested estate of 50 acres and has been built with natural materials sourced mostly from neighboring villages and surrounding areas. The forested estate is home to many mammals, birds and reptiles. 6 village style air conditioned huts with attached modern bathrooms with wc, hot and cold water, dressing room and sit out. 6 cottage rooms with attached bathroom with wc,hot & cold water, living room, kitchenette and open deck. The huts and cottages are spread out in 50 acres of mixed jungle in undulating terrain, giving a jungle experience which few in the country can parallel. The lodge also boasts of a 3000 sq.ft. Machaan were the meals are served. The machaan popularly known as the Tree House overlooks the Ken River and offers fresh home cooked meals.
Panna National Park is spread over 1645 sq. km was carved out of the hunting reserves of Panna, Bijawar and Chatarpur states. Out of the total area 543 sq km is core and 1002 sq km is buffer. In 1994 it became India's 22nd Tiger Reserve. It is predominantly an open forest and offers great opportunity to view animals like Tiger, Sloth Bear, Cheetal, Sambhar and Nilgai. Panna is also home to crocodiles and over 300 species of birds. Panna is the land of cascading waterfalls- Raneh falls and Pandav falls are a great attraction, both are situated in the reserve forest.
Along with Raneh falls, Ken Gharial Sanctuary can also be visited. On a sunny afternoon the guests can see innumerable Gharials sun basking. Fondly called the Tree House by locals, because of its lovely Machaan restaurant overlooking the Ken River, it is the finest place to get lost from the world. Boating Enjoy the carefree boat on the mesmerizing Ken River with hands on experience in rowing, from our local boatmen, the real adventurous can do it on the truck tube as their boat, as used by the local fishermen.
Alternatively inside the park is also an hour ride on a motorized boat, where the real unlucky misses the crocodiles. The river ecosystem offers great opportunity for bird watching especially in the winter months with innumerable migratory birds. Night Safari Special The Jhinna Safari Camp is an hour's drive through the national park from the lodge.
The Jhinna Camp is run by local villagers and is a Ken River Lodge initiative.It offers 4 basic walk in tents with private separate tented bathrooms, a tribal styled mud dining hall serving local dishes cooked by participating villagers. From the jhinna camp night Safaris are offered in the reserve forest and offers good opportunity to see nocturnal animals. Frequently seen animals include Civets, Jackal, Porcupine, Hynea, Fox, Sloth bear Jungle cat, Blue bull and Cheetal. Also seen less frequently are leopards, Wolves, Rusty spotted cat and Leopard cat. One can also explore the jungle on foot, there is an exciting forested hill with ruins and neighboring villages to be explored.
Available Rooms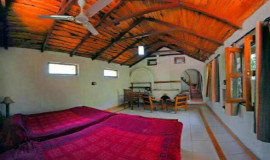 Hut
Max Guests:

3 persons
PER/NIGHT₹19354
₹21504

Full Board
village style air conditioned huts with attached modern bathrooms with w/c, hot and cold water, dressing room and sit out.
Amenities
Wi-Fi Internet*

Guide Service*

Senior Citizen Friendly Resort