Resort

Resort

Resort

Resort

Resort

Resort

Resort

Resort

Resort

Resort

Resort

Resort

Resort

Resort

Resort

Resort

Resort

Resort

Resort

Resort

Resort

Resort

Resort

Resort

Resort

Resort

Resort

Resort

Resort

Resort

Resort

Resort

Resort

Resort

Resort

Resort

Resort

Resort

Resort

Resort

Room

Room

Room

Room

Room
Mana Resort
Ranakpur, Rajasthan
About Mana Resort
Mana hotel accounts to be the best luxury resorts in Ranakpur, based besides the river and within the vicinity of Ranakpur Jain Temple. A delightful budget accommodation, basked in the luxury of amenities such as, outdoor pool, wireless Internet access, babysitting/childcare, and an arcade/game room, Mana Hotels is a place to be experienced.
The tranquility at this hotel and the food served is another major highlight of Mana resorts. It is known as one of the best hotels and has achieved this niche thereby offering cost effective accommodation service to its guest. Hotel Mana offers the most sophisticated facilities and room amenities and also ensures satisfaction of the visitors. Ranakpur is a picturesque abode settled in a verdant valley of the Aravalli Range.
The scenic destination is submerged in the sublimity of Ranakpur temple. Located about 56 miles (90 kilometers) north of Udaipur, it is an astute example of India's most dazzling temple architecture, Dilwara Temples. A trip to Ranakpur is an incomplete affair without a visit to the legendary Dilwara Temples, renowned for their stunning architecture, reflecting eminent Jain values like honesty and frugality.
Available Rooms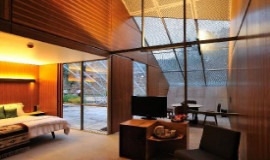 Villa
Max Guests:

5 persons
PER/NIGHT₹3743
₹4158

Breakfast
Exclusive area of Mana Ranakpur, away from the crowds in the restaurant and other public areas. The greenery & the Aravallis in the backdrop make for a picture perfect setting,Centralized Air Conditioning,24 Hour Hot Water,WI-FI Internet Access,Mini Bar With Beverage,Hair Drier
Standard (G)
Max Guests:

3 persons
PER/NIGHT₹4812
₹5346

Breakfast
The ground floor of the hotel block, these rooms have the shortest access to all the public areas. Overlooking the 150 year old 'barh' tree court, these room s offer a unique view Centralized Air Conditioning,24 Hour Hot Water,WI-FI Internet Access,Mini Bar With Beverage,Hair Drier,24 Hour Room Service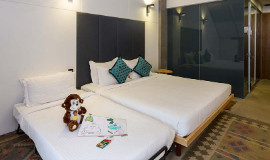 Standard (F)
Max Guests:

3 persons
PER/NIGHT₹4812
₹5346

Breakfast
Located on the first floor of the hotel block with rooms on both sides of the corridor, these rooms offer views of the gardens on one side and the seasonal river on the other.Air Conditioning,24 Hour Hot Water,WI-FI Internet Access,Mini Bar With Beverage,Hair Drier,24 Hour Room Service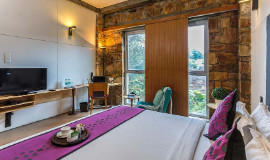 Deluxe
Max Guests:

3 persons
PER/NIGHT₹5346
₹5940

Breakfast
The second floor of the hotel block, these rooms unparalled views of the Aravallis. An exclusive balcony for the residents of this floor adds to the charm Air Conditioning,24 Hour Hot Water,WI-FI Internet Access,Mini Bar With Beverage,Hair Drier,24 Hour Room Service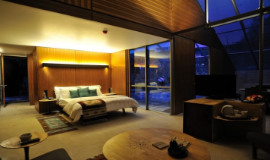 Suite
Max Guests:

3 persons
PER/NIGHT₹6416
₹7128

Breakfast
Located on the second floor of the hotel block, these rooms offer views of the Aravallis and the seasonal river both. No hotel in Ranakpur will offer such views Air Conditioning,24 Hour Hot Water,WI-FI Internet Access,Mini Bar With Beverage,Hair Drier,24 Hour Room Service
Amenities
Games and Activity Centre*

Conference Hall*

Wi-Fi Internet*

Spa and Massage*

Bar*

Guide Service*

Senior Citizen Friendly Resort

Swimming Pool