Resort

Resort

Resort

Resort

Resort

Resort

Resort

Resort

Resort

Resort

Resort

Resort

Resort

Resort

Resort

Resort

Resort

Resort

Resort

Resort

Resort

Resort

Resort

Resort

Resort

Resort

Resort

Resort

Resort

Resort

Resort

Resort

Resort

Resort

Resort

Resort

Resort

Resort

Resort

Resort

Room

Room

Room

Room

Room

Room

Room

Room

Room

Room

Room

Room

Room

Room

Room

Room

Room

Room

Room

Room
Ojaswi Himalayan Resort
Mukteshwar, Uttarakhand
About Ojaswi Himalayan Resort
The rooms are specially-designed with beautiful interiors and an enthralling view of the mountains. For your revitalising stay, Ojaswi Himalayan Resort also has an in-house restaurant and an exclusive spa facility. The resort captures the vibrancy of the serene ambience, and pampers you with a whole lot of services that gives you a memorable experience to treasure forever!
Indulge yourself in blood-pulsing outdoor adventures! Paragliding, cycling, rock climbing, waterfall trekking, and other activities are ideal to rejuvenate yourself and your spirits. Go for nature walks and lake tours, along the lanes of Ojaswi Himalayan Resort, and get a glimpse of the sylvan landscape, the tranquil waters, and the beautiful greenery.
Available Rooms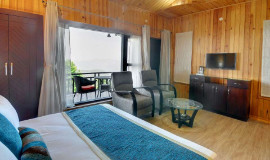 Jungle Retreat
Max Guests:

3 persons
The Jungle Retreat have a grand living room and a well lit sitting area in a wooden cottage. It flaunts sophistication and style.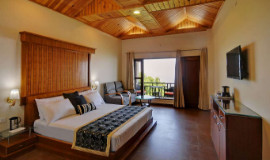 Terrace Rooms
Max Guests:

2 persons
The Terrace Rooms radiate a homely vibe, and are brilliantly decked-out giving valley & Himalayan view with open terrace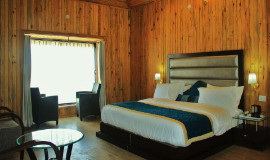 Club Retreat
Max Guests:

3 persons
The Club Retreats are cottage style rooms adorned with warm colours, adding on to its luxury and comfort.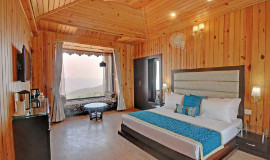 Ojaswi Family Suite
Max Guests:

4 persons
Perfect for a family vacation, well equipped bedroom with a living room.