About Patan Mahal
The historical city of Patan is about 70 miles northeast of Jaipur,on the Kotputli Sikar road, off the National Highway 8, the road which connects Jaipur and Delhi. Patan is a city in the Indian state of Rajasthan. In the 12th century, it became the centre of a minor state called Tanwarawati or Torawati (after Tanwar/Tomar the clan name) ruled by the Tomara clan.
The chief of the clan is the Rao of Patan, and he is considered to be the direct in descent from the last Hindu Emperor Anang Pal Tomar II the ruler of Delhi before Prithviraj Chauhan. Patan Mahal, home to Rao Digvijay Singh, is situated on the foot hills. He has now opened his home to the discerning traveler. The family came and built the impregnable fort at Patan and also the Badalgarh Mahal, halfway up the mountain in the 13th century. The Patan Mahal was built a few years later. Patan is the site of one of the last great battles in Indian history. Called the Battle of Patan, it saw the Maratha Confedaracy pitted against the Rajputs of Jaipur and their Mughal allies in 1790.
Located above the city of Patan is Patan Mahal, a delightful palace representing traditional Rajasthani architecture. The city dates back to the 12th century and has been home to the family of the descendants of the last Hindu Emperor of Delhi, Maharaja Anangapal Tomar II. Historically, Patan has been an important out-post for the capital, having played the backdrop for numerous wars featuring many ancient Northern rulers.
Available Rooms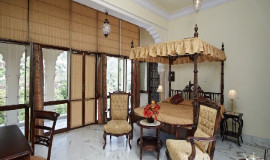 Royal Suite
Max Guests:

2 persons
PER/NIGHT₹9099
₹9099

Breakfast
The beautifully appointed rooms at Patan Mahal reflect the royal heritage of Rajputana, and the Patan Family.
Amenities
Senior Citizen Friendly Resort

Games and Activity Centre*

Wi-Fi Internet*