About S B Mount
Our one set of rooms are created and designed specifically for cost effective long stay.You will find the very best of design and comfort in the luxury abodes which have default potpourri of facilities. We are glad to present the best alternatives to expensive resorts rooms when you are travelling on work or pleasure. We can assure you a comfortable and enjoyable stay.
Welcome to S.B. Mount Resort where stylish accommodations create a unique setting for leisure. Embark on a unique culinary journey in the distinctive, contemporary atmosphere. Indulge in an evening of fine dining in the smart and sophisticated Restaurent next to river Silgarh and enjoy a wide selection Indian food. It is a stylish space with comfortable stay, the perfect place to hold a casual meeting, or simply to relax in with a good book and an aromatic coffee or tea. Most of the above you can Dine with stars with a small river flowing next to you.
Available Rooms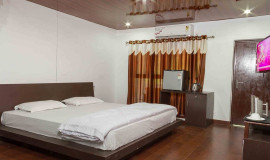 Deluxe Room
Max Guests:

3 persons
The room contains a big-sized bed and a work area, as well as the latest smart features including a 32-inch LED TV, a 50 Ltr. Small fridge with cold drinks, Wafers, Mineral Water and soft drinks. A tea set helps creates an authentic experience.Vitrified wood finishfloor.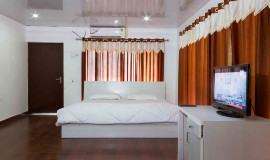 Semi Deluxe
Max Guests:

3 persons
The room stands out because of its red mosaic flooring and bright yellow bathroom. This headrest also, well, was once a tree trunk, and the hardwood queen size bed has a thick inviting soft mattress. Here too the setting ksun creeps in and touches the wooden beams and slanting ceiling with evening slivers of light.
Amenities
Games and Activity Centre*

Wi-Fi Internet*