Nearby

Nearby

Nearby

Nearby

Nearby

Nearby

Nearby

Nearby

Nearby

Nearby

Nearby

Nearby

Nearby

Nearby

Nearby

Nearby

Nearby

Nearby

Nearby

Nearby

Nearby

Nearby

Nearby

Nearby

Nearby

Nearby

Nearby

Nearby

Nearby

Nearby

Nearby

Nearby

Nearby

Nearby

Nearby

Nearby

Nearby

Nearby

Nearby

Nearby

Room

Room
About XRA
Near the pine forest, listen to the chirping birds and the murmuring wind. Treat your eyes to the great Himalayan range. In this tranquil environment, you will only get nature at its best. This property is ideally situated (2400m above sea level) between Joshimath and the Auli Ski resort. It houses 5 cottages, 1 restaurant and a lovely flower and wild herb garden.
XRA cottage leads out to apricot, apple trees and wild roses. This area promises complete privacy, where you can be yourself, away from the rest of the world. In winter, it is the ideal place for skiing. Located only a mere hour away from the famous Valley of Flowers (World Heritage Site) and highly religious Hemkund and Bardinath temple.
Available Rooms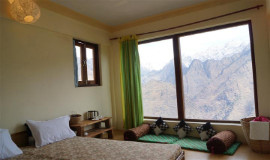 Deluxe Cottage
Max Guests:

2 persons
Travel back in time to the days when houses weren?t made of cement yet and when rooms had detached bathrooms. This Eco hut acts as a natural insulation against the cold in winter and delights its patronage with a welcoming cool in the hot summer. With an in-built fireplace, one can expect a cozy and relaxing evening by the fire whose light chases even the smallest of worries away.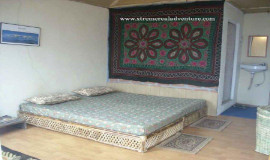 Alpine Cottage
Max Guests:

2 persons
This Alpine Cottage with full amenities including a built-in toilet with hot shower facilities, a kettle jug, room heater, electrical points, it is like a self-contained studio where one can spend a leisure day indoors. Admire the beautiful view of the Himalayan mountains or dazzling, starry night sky from your windows.