Resort

Resort

Resort

Resort

Resort

Resort

Resort

Resort

Resort

Resort

Resort

Resort

Resort

Resort

Resort

Resort

Resort

Resort

Resort

Resort

Resort

Resort

Resort

Nearby

Nearby

Nearby

Nearby

Nearby

Nearby

Nearby

Nearby

Nearby

Nearby

Nearby

Nearby

Nearby

Nearby

Nearby

Nearby

Nearby

Nearby

Nearby

Room

Room

Room

Room

Room

Room
Neeralaya
Raison, Himachal Pradesh
About Neeralaya
The idea of Neeralaya, dates back to the owners childhood! Neeralaya is about the villas, built in old recycled timber, stone and slates sourced locally. Villas at Neeralaya are a tiny, tiny step in that direction. We acquired two such homes before they were demolished and used all the material (timber, stones and slates) and built our villas to make available to our guests top quality modern day comforts, a little retreat to savor the age old techniques of house building in the Western Himalayas.
Plenty of outdoor activities are available from the villas: mountain bikes, river rafting, day return hikes and guided tours to the local temples and villages. We also take great pride in organizing some of the best picnics that are there to be organized in the valley.
Available Rooms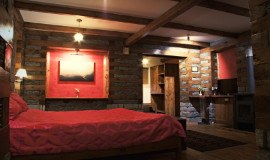 Riverside Two Bedroom Villa,Peach &Plum For 4 Person
Max Guests:

6 persons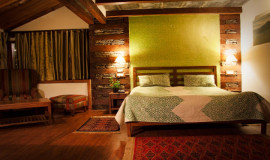 Deluxe Suite Kiwi,Apple,Appricot & Walnut Rooms
Max Guests:

4 persons
PER/NIGHT₹12000
₹12000

Breakfast
Equally tastefully furnished are our single bedroom+bathroom, sitting-room, dinning, kitchenette with veranda/balcony suites with wonderful views of the river and access to private gardens.
Amenities
Wi-Fi Internet*

Bonfire*

Railway Station Transfer*

Airport Transfer*

Guide Service*

Senior Citizen Friendly Resort

Yoga and Meditation