Resort

Resort

Resort

Resort

Resort

Resort

Resort

Resort

Resort

Resort

Resort

Resort

Resort

Resort

Resort

Resort

Resort

Resort

Resort

Resort

Resort

Resort

Resort

Resort

Resort

Resort

Resort

Resort

Resort

Resort

Resort

Resort

Resort

Resort

Resort

Resort

Resort

Resort

Resort

Resort

Resort

Resort

Resort

Resort

Resort

Resort

Resort

Resort

Resort

Resort

Resort

Resort

Resort

Resort

Resort

Resort

Resort

Resort

Resort

Resort

Resort

Resort

Resort

Resort

Resort

Room

Room

Room

Room

Room

Room
Malji Ka Kamra
Churu, Rajasthan
About Malji Ka Kamra
We love saying that Shekhawati is not just about seeing its great havelis (mansions) and their fresco paintings. Unlike the princely palaces and forts, the heritage of Shekhawati belongs to its people - the Marwari merchants. So, as impressive as our havelis are (and we are proud to be doing one of the best guided tours of the 'open art gallery' in region), the Churu experience is about the people - the merchants, the artisans, the farmers, the workers and so many more like us. Knowing these people, their stories, their lives is what makes it special.
Lal Singh - I am your expert on havelis and frescos, part time manager, street expert and so much more. Born in Castle Mahansar (near Churu) and brought up in a conventional family, I have closely seen rituals of traditional life of Rajasthan. Since my father worked in Churu as a lawyer, our family has always had a special connection with Churu. I am a post-graduate in History and my love for Rajasthani art, culture and architecture has led me to work a lot to unfold the remote and less-travelled villages and streets of the region. While I used to think of myself as a tour-guide (that's what I did for 15 years), my association with Malji has been different. At Malji, I am everything our guest would want me to be, but having said that our havelis are still my passion. And believe me, there is no other haveli like the one we run - it really is in its own zone. A decade ago, I have been to some of the western european countries and visited their historical places. My wish is that we can make Churu like that neat, clean, responsible and a treat to walk around with oodles of history to marvel at and a lot more color.
Available Rooms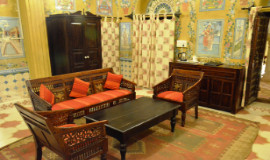 Family Suite
Max Guests:

4 persons
Our Family Suite is one of the most elaborately painted in Haveli and is located on 1st floor. The Suite doubles up as a Family room and can sleep 4 with two double beds in bedroom and separate living room area.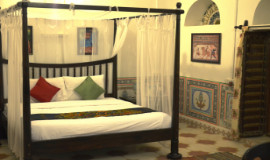 Comfort Room
Max Guests:

3 persons
Located on 1st floor, this is the most elaborately Painted room in haveli. The room was used by Maharaja of Bikaner ? Ganga Singh Ji ? for times he stayed here during his visits to Churu.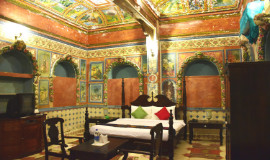 Haveli Room
Max Guests:

3 persons
Haveli Rooms are located on the first and second floor. Five of them have direct access to balconies overlooking garden and a view to surrounding havelis. Another one has original frescos. All Haveli Rooms are spacious and air conditioned, have comfortable beds and en-suite bathrooms. Amenities include LCD TV with cable access and tea/coffee makers.
Amenities
Wi-Fi Internet*

Senior Citizen Friendly Resort