Summer Season
Summers are closer than you think. Plan your Summer Holidays and Travel the World with TripOffbeat, your Trusted Travel Partner to get a completely personalised and customised holiday plan as per your needs.
Whether it's a Leisure Trip or a Luxurious one, we have the best choice of destinations for you. Choose from the natural beauty of Thailand, or glamorous Singapore, adventurous Hongkong, casinos in Macau, peaceful Bali, stunning Maldives, romantic Europe, iconic USA or enchanting Australia.
Just send us your query and our Travel Experts will be in touch with you promptly.
Travel to

Thailand
and discover true natural beauty
Experience fabulously glamorous Singapore
Discover bliss and adventure in Hong Kong & Macau
Celebrate this Summer and travel to calm & serene Bali
Sit back and relax in stunning Maldives this Summer
Don't miss romantic & unforgettable Europe
Discover the iconic & amazing USA
Fall in love with culturally enchanting Australia
Kerela
6 Holiday places
Pondicherry
1 Holiday places
Goa
3 Holiday places
Honeymoon
Honeymoon is the time to create memorable memories with your life partner that you are both going to cherish thorough out your life. An ideal honeymoon needs beautiful surroundings to stimulate your senses, solitude to bring closeness and plenty of things to do so you can have fun exploring each other's interests. TripOffBeat offers you amazing Honeymoon destinations to help you celebrate this most valuable life experience in the most memorable way. All our locations offer great offbeat stay options within a short distance from the main town, are safe stay options, offering you all the comforts that you need, but are far from the madding crowd to give you the privacy you need to make your honeymoon special.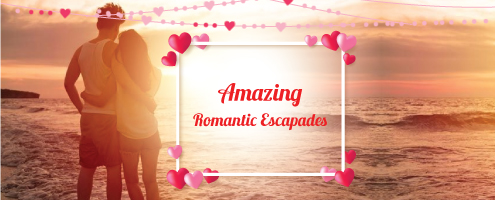 Himachal Pradesh
8 Holiday places
Rajasthan
9 Holiday places
Madhya Pradesh
10 Holiday places
Kerela
3 Holiday places
Kerela
6 Holiday places
Goa
3 Holiday places
Pondicherry
1 Holiday places
Snowfall
There is no need of exaggeration that the best thing about the winter season is the snowfall. Imagine waking on a misty morning, tiny snowflakes falling from above and covering the entire place forming a mesmerizing sight and you walk over the lanes just in search of the chill that says- winter is here! There are many amongst us who pack their bags and head to the place where they can challenge the freezing weather and lie down on the fresh bed of snow and some who just love to snuggle into a quilt and enjoy the aroma of a hot coffee in these beautiful surroundings. So experience all of this at the best hill stations in India or abroad from the month of November till February. Create new memories and experiences, solo or with your loved ones. Make this winter, an astonishing one with TripOffbeat.com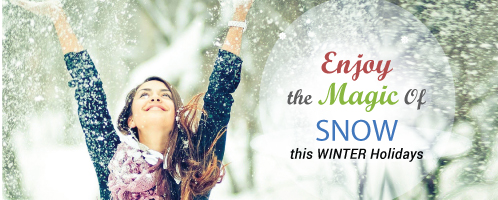 More Popular Destinations