Resort

Resort

Resort

Resort

Resort

Resort

Resort

Resort

Resort

Resort

Resort

Resort

Resort

Resort

Resort

Resort

Resort

Resort

Resort

Resort

Resort

Resort

Resort

Resort

Resort

Resort

Resort

Resort

Resort

Resort

Resort

Resort

Resort

Resort

Resort

Resort

Resort

Resort

Room

Room

Room

Room
Anantya Resort
Kanyakumari, Tamil Nadu
About Anantya Resort
All of Anantya's 21 Villas are face the lake and have gorgeous views of the water. The Villas seamlessly blend the outdoors and the indoors. Rustic local finishes of mudwalls, exposed brickwork, handmade tiles on sloping roofs and rubble masonry mesh with carefully selected furniture to create a refined space to retreat and relax.
Anantya's design is inspired by Laurie Baker and Geoffrey Bawa's ideals of minimalism, eco friendliness and trueness of materials. Carefully constructed to leave a minimal eco footprint we have used reconditioned tiles and stone pillars, locally procured rubble and brick, sewage treatment and water saving, contour constructions and many other techniques.
Available Rooms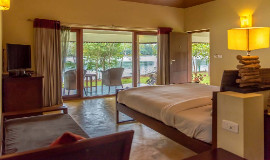 Chakra Cottages
Max Guests:

2 persons
Named after the Yoga Chakras, these 7 cottages are a perfect blend of simplicity and comfort. The cottages are placed in a huge landscaped garden and offer excellent views of the lake. Lounge on the veranda or soak in a bath tub overlooking a garden, to enjoy the sights and sounds of nature. An open to sky private green yoga court allows for yoga, meditation, contemplation and reflection at any time. These cottages comfortably sleep two adults and a small child. Extra beds are available upon request.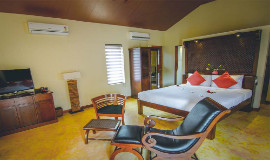 Siddhi Villas
Max Guests:

3 persons
Named after the ?Ashta? or eight ?Siddhis?, these cottages are secluded oases of peace and calm. When you shut the door of your Padipura entrance, you will enter your private retreat, complete with a lush garden, a beautiful lily pond, and a gazebo. These spacious cottages have an open to sky shower. Ask for our special turn down and dinner service to create romance in the air. These cottages are perfect for guests with children, as there is ample room for all.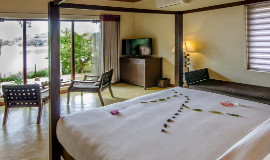 Veda Jacuzzi Villas
Max Guests:

2 persons
The Veda Jacuzzi villas epitomise refined luxury. Walk through a traditional Padipura entrance, down a meandering garden path and into your sanctuary. Linger under the gazebo and watch the lake?s calm water. Enjoy peace and tranquility while you soak in an open to sky outdoor Jacuzzi. Request our special dinner service and we will organise a candle light dinner under the stars.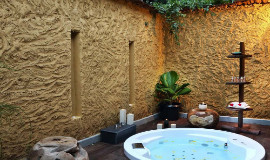 Sadhana Pool Villas
Max Guests:

3 persons
The Sadhana Pool Villas take luxurious vacationing to a whole new level. These one-bedroom suite styled villas are nestled within a large lush garden enclosed by mud walls. Treat yourselves to gorgeous lake views from all rooms, a private plunge pool, a shaded pergola to lounge under, an open air bath area, and plush sophisticated interiors.
Amenities
Senior Citizen Friendly Resort

Games and Activity Centre*

Yoga and Meditation

Wi-Fi Internet*

Bicycles on hire*

Guide Service*