About Chamba Camp Diskit
Chamba Camp Diskit Cradled by jagged mountains on the northern route to Leh, two rivers, Nubra and Shyok meet to form the enchanting valley of Nubra. An oasis of forgotten tales of merchants, monks and mercenaries who trudged these high-altitudes of trans-Himalayan sand dunes in search of gold, glory and God.
Chamba Camp, Diskit presents Hunder village, Turtuk, and Sumur - the alluring barren vistas saturated with hues of white, green and brown. Witness the amalgamation of ancient cultures, stories of Buddhist monks and monasteries eternal through the sands of time, spectacular terrains of molten fold mountains strewn with cobalt blue lakes, all at the Chamba Camp, Diskit a step away from paradise.
Available Rooms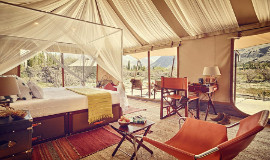 Luxury Suite Tent
Max Guests:

3 persons
PER/NIGHT₹125568
₹139520

Full Board
Live like royalty and luxuriate in the large, self-contained tents perched on solid wooden decks. Step out into your own private sit-out, which offers you a 360? panoramic view of the mystical mountains and dramatic landscapes. Snuggle up in your large poster bed or take in the opulence of your en-suite bathroom, with large netted windows that open out to spectacular vistas. The triple layered tents enhance the natural insulation to keep you warm and comfortable, while the all-weather and fire-resistant canvas reinforces your security, which is our top priority. Pamper yourself with our personalised butler services, and have yourself an unforgettable holiday!