Resort

Resort

Resort

Resort

Resort

Resort

Resort

Resort

Resort

Resort

Resort

Resort

Resort

Resort

Resort

Resort

Resort

Resort

Resort

Resort

Resort

Resort

Resort

Resort

Resort

Resort

Resort

Resort

Resort

Resort

Resort

Resort

Resort

Resort

Resort

Resort

Room

Room

Room

Room
Chamba Camp Thiksey
Leh, Jammu and Kashmir
About Chamba Camp Thiksey
Chamba Camp Thiksey A land of varying landscapes, from white deserts to blue lakes, snow-capped mountains to lush valleys, Ladakh, like a dream captured in a snow globe, is a wildly beautiful milieu set between the Kunlun Mountains and the Himalayas.
Stay at Chamba Camp, Thiksey, surrounded by a stark landscape of ever-changing colours, as the chanting of prayers echo in the silence amid the mountains. There is a Buddhist word which best describes such an utopia, "Shangri La", an Earthly Paradise - an oasis of peace and tranquility; this word best describes the camp and its many bespoke services.
The blessed and serene hamlet of Thiksey lies at an altitude of 3, 500 mtrs (11, 550ft) a.s.l. Located in the shadows of the famed and iconic Thiksey Monastery , this used to be a brown , barren and rocky moraine now converted into a Green Zone with 03 water bodies and also an organic garden .58 people from the local Thiksey village community have also been directly absorbed into various job capacities within the campsite. They have assimilated their traditional, local knowledge to make our Campsite organic and sustainable.
Available Rooms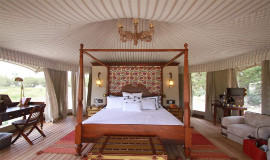 Luxury Suite Tent
Max Guests:

3 persons
PER/NIGHT₹125568
₹139520

Full Board
Luxury Suite Tents Beautifully-furnished and spacious, these tents rest royally on thick wooden decks, and treat you to a spellbinding 360? panorama of mystical mountains that encircle your location. Whether you are on the king sized bed or in the stylish bathroom, views from the huge netted windows won't let you forget the magical landscape that envelops you. The triple layered tents, with their natural insulation ensure you stay warm and comfortable. Anti-weathering and fire-resisting fabric reinforces your security as our top priority.