Resort

Resort

Resort

Resort

Resort

Resort

Resort

Resort

Resort

Resort

Resort

Resort

Resort

Resort

Resort

Resort

Resort

Resort

Resort

Resort

Resort

Resort

Resort

Resort

Resort

Resort

Resort

Resort

Resort

Resort

Resort

Resort

Resort

Resort

Resort

Room

Room

Room

Room

Room

Room

Room

Room

Room

Room

Room

Room
Jim's Jungle Retreat
Corbett, Uttarakhand
About Jim's Jungle Retreat
Jim's Jungle Retreat is an eco-conscious wildlife speciality lodge located on the southern periphery of India's showcase wildlife park Corbett Tiger Reserve. Nestled between the Himalayan foothills in the north and the ancient Shivaliks in the south, Corbett Tiger Reserve extends over 1300 square kilometers of scrub, grassland, sal forests, rivers and a lake, varying between 400-1210 meters above sea level.
FIND YOURSELF IN THE FOREST.. At this forest's edge, Jim's Jungle Retreat offers 18 sophisticated lodges and cottages in 15 acres of lush refuge, with forest and mountain vistas, countless bird-spotting opportunities, instinct-sharpening walks and safaris, and hours by the pool or on your private verandah. The retreat borders the southern forests of Corbett and a seasonal river that comes to life during the monsoon. Established in 1936, and once nobility's favored hunting ground, the sanctuary protects over 50 mammals, including the Royal Bengal tiger, the Asiatic elephant and the shy sloth bear, along with nearly 600 hundred domestic and transitory birds, and remarkably rare reptiles. Through the year, the riverbed and the surrounding forests host herds of grazing deer, root-digging wild boar, noisy jackals and the occasional tiger or leopard. During their seasonal migration, elephant herds trumpet their arrival and are sighted often on jungle walks.
Available Rooms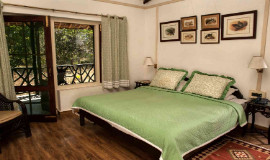 Jungle Cottage
Max Guests:

3 persons
The Jungle Cottage borrows from the construction style of our neighboring Gujjar community, with sloping thatched roofs and mud-colored exteriors, while the rooms, living, bedroom, dressing and bath offer Raj-inspired living.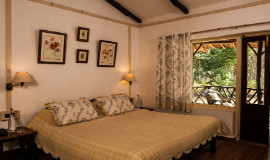 Jungle Family Cottage
Max Guests:

4 persons
The Jungle Family Cottage contains a second bedroom for children. All elements from the cottage are available in the family suite as well.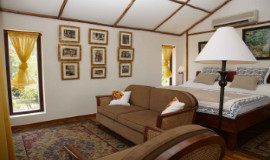 Jungle Lodge
Max Guests:

3 persons
At a 15-foot elevation, they offer spectacular views of the surrounding jungles, the nearby Shivalik hills and the seasonal riverbed that hosts deer, wild hog and the occasional tiger or elephant. 10 feet wide wrap-around verandas, plush interiors that encourage you to unwind, solar geysers and rain showers, all add to your unique personal experiences.
Amenities
Senior Citizen Friendly Resort

Swimming Pool

Games and Activity Centre*

Wi-Fi Internet*

Bar*