Resort

Resort

Resort

Resort

Resort

Resort

Resort

Resort

Resort

Resort

Resort

Resort

Resort

Resort

Resort

Resort

Resort

Resort

Resort

Resort

Resort

Resort

Resort

Resort

Resort

Resort

Resort

Resort

Resort

Resort

Resort

Resort

Resort

Resort

Resort

Resort

Resort

Resort

Resort

Resort

Resort

Resort

Resort

Resort

Resort

Resort

Resort

Resort

Resort

Resort

Resort

Resort

Resort

Resort

Resort

Resort

Resort

Resort

Resort

Resort

Resort

Resort

Resort

Room

Room

Room

Room

Room

Room

Room
The Himalayan Village
Parvati Valley, Himachal Pradesh
About The Himalayan Village
The Himalayan Village situated at the foothills of the famous malana village, the oldest democracy in the world & just 10 K.M short of manikaran, famous for its hot water springs, right on the bank of ice cold parvati river. The valley has some real good treks, majestic flower valleys, thick flora and fauna, crystal clear waterfalls, rivers in virtuous serine parvati valley the 'Tapobhoomi' of shiv shamboo.
The village has thick deodar (pine) forest as the crown, river parvati wetting its feet, mountains made of black hard-rock. Snow covered peaks making a perfect backdrop for this 'Shiv Nagari'. The village is a perfect place for nature lovers. The sights of day break, sunrise, and crystal clear skies full of numerous stars can remain etched in one's memory forever.
The Himalayan Village is a glorious mix of style, top class facilities, where the traditional architecture & aesthetics blend harmoniously. Made in pure traditional & ancient Kathkunia style (dry stacking of stone & wood without cement), with mud plastered walls from inside blending perfectly with deodar wood work, beautifully carved teak furniture, handmade tussle silk curtains, traditional brass fittings make a perfect blend of aesthetics and class. The cottages based on different districts of Himachal have a build in area of 600- 750 sq ft with mini bar, mini fridges, study, separate dressing, fully furnished and equipped toilets and personal lawns.
Available Rooms
Cottages
Max Guests:

4 persons
PER/NIGHT₹9600
₹9600

Breakfast
The cottage has a king size bed, 4 seater sofa, study, mini fridge, mini bar, seperate dressing, fully furnished & equipped toilets and personal lawn.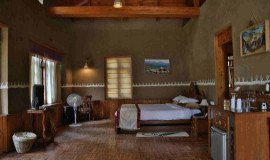 Machaans
Max Guests:

4 persons
PER/NIGHT₹12200
₹12200

Breakfast
These are beautiful machaans, Machaans are tradional all wooden structures called Bhandars with living space at height of 50 ? 60 fts above ground. The Machans have a commanding view with king size beds , 4 seater sofa in sitting area , mini bar , mini fridge , study , separate dressing, fully furnished and equipped toilets with rain showers and hanging balcony.
Amenities
Games and Activity Centre*

Conference Hall*

Wi-Fi Internet*

Spa and Massage*

Bar*

Railway Station Transfer*

Airport Transfer*

Guide Service*