Resort

Resort

Resort

Resort

Resort

Resort

Resort

Resort

Resort

Resort

Resort

Resort

Resort

Resort

Resort

Resort

Resort

Resort

Resort

Resort

Resort

Resort

Resort

Resort

Resort

Resort

Resort

Resort

Resort

Resort

Resort

Resort

Resort

Resort

Resort

Resort

Resort

Resort

Resort

Resort

Resort

Resort

Resort

Resort

Resort

Resort

Resort

Resort

Resort

Resort

Resort

Resort

Resort

Resort

Resort

Resort

Room

Room

Room

Room

Room

Room

Room

Room

Room

Room
Aashyana Lakhanpal Villa & Casinhas
Bardez, Goa
About Aashyana Lakhanpal Villa & Casinhas
Candolim is a must destination for visitors to Goa, and it has an intriguing secret. Tucked away at the end of a quiet lane, off the bustling main road to Calangute, is Aashyana the 'Nest'. This royally appointed jewel in the crown nestles on the prettiest stretch of Candolim beach, in a lush tropical garden exuding tranquillity.

In an ambience offering the best in contemporary Indian design, Aashyana has the rare combination of impeccable attention to every detail of luxurious living whilst giving opportunities to explore your more contemplative, spiritual essence and romance in its widest sense.

The choice is yours to be pampered in the elegant luxury of Aashyana Lakhanpal, the fully staffed 5 bedroom villa or reside in style at one or more of the three self contained two bedroom Casinhas - each complete with an individual, private garden or in one of the double bedroom beachside cottages or in villa Venus, the 3 bedroom self contained independent villa.

Throughout the Villa, Casinhas, Cottages and Villa Venus the walls display modern work of Indian art from the owner's extensive private collection. Within easy reach is both ancient and modern culture, bustling markets and up market boutiques.
Available Rooms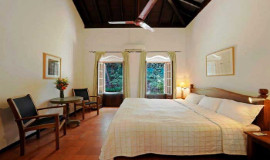 5 Bedroom Villa
Max Guests:

10 persons
flexible sleeping arrangements: twin beds can be joined to form a huge double bed (6 ft. 6? wide); spacious, mosaic-tile bathroom attached. Can be accessed either by an independent staircase or via Bedroom 4.A pleasant reading lounge,A wide, sea-facing terrace.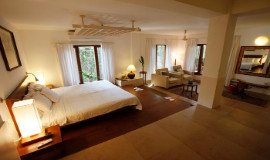 3 Bedroom Villa
Max Guests:

6 persons
An exceptionally spacious suite with a double-bed (6 ft. 3? wide) on a raised platform, a sitting area and an attached bathroom. The suite?s private terrace overlooks the Arabian sea.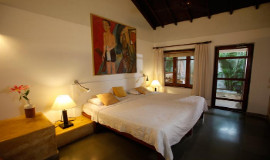 Aashyana Casinha Libra 2 Bedroom
Max Guests:

4 persons
Aashyana Casinhas Libra is is a two-bedroom cottage, ideal for a couple, small families, or a small group of friends. The cottage consists of:Open plan living/dining/kitchen areas equipped with gas, fridge, crockery, cutlery 1 double and 1 twin bedroom Attached bathroom with open air shower in a private enclosed courtyard Patio and private garden Personalised, home-prepared meals (lunch or dinner) on a chargeable basis Daily housekeeping service (linen changed on alternate days) Swimming pool (lap), poolside loungers and toilet/shower Beachfront sit-out Private beach access Satellite TV/Home theatre system and DVD player Wifi - internet access Back-up power supply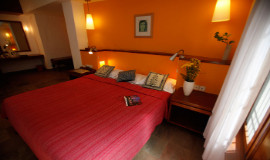 Aashyana 1 Bedrooom Cottage
Max Guests:

2 persons
Aashyana Cottage 1 is set right by the beach, with only a garden path between you and the Arabian Sea. The double bed cottage with attached bathrooms is immersed in coconut and cashew groves, bougainvillea and frangipani. Stay includes: Personalised, home-prepared meals (lunch or dinner) on a chargeable basis Daily housekeeping service (linen changed on alternate days) Swimming pool (lap), poolside loungers and toilet/shower Beachfront sit-out Private beach access Satellite TV Wifi - internet access Back-up power supply, Massage rooms (book for appointment)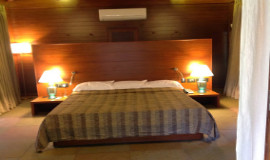 Aashyana 2 Bedroom Cottage
Max Guests:

2 persons
Aashyana Cottage 2 is set right by the beach, with only a garden path between you and the Arabian Sea. The double bed cottage with attached bathrooms is immersed in coconut and cashew groves, bougainvillea and frangipani. Stay includes: Personalised, home-prepared meals (lunch or dinner) on a chargeable basis Daily housekeeping service (linen changed on alternate days) Swimming pool (lap), poolside loungers and toilet/shower Beachfront sit-out Private beach access Satellite TV Wifi - internet access Back-up power supply Massage rooms (book for appointment)
Amenities
Wi-Fi Internet*

Spa and Massage*

Railway Station Transfer*

Airport Transfer*

Guide Service*

Senior Citizen Friendly Resort

Swimming Pool

Indoor Pool

Beach Beds

Sun Beds (pool)

Yoga and Meditation