Take lead to organize break free holidays trip for your whole family or with friends. Get set to experience the captivating mountains and the natural wilderness far away from the usual complexities of the urban life we are used to.
The fresh clean air, gushing streams, greenery around, sounds of the chirping bird and watching the clear skies promises a rejuvenating vacation for both you and your family and leaves you with some beautiful memories to cherish for a lifetime.
Plan Your Break Free Holidays Now!
Do not wait for any occasion, take a break from your regular daily life. Spread your wings and break free to a fabulous vacation. Doesn't matter if you want to rest amid lush greenery, or want to have a luxurious and royal weekend, or even want to enjoy fruits of leisure, here are some handpicked destinations for your one-of-a-kind holiday experience.
Explore unexplored jewels of India and give your family or friends a memorable holiday experience.
Aamod At Shoghi – Rejuvenate Yourself With The Fresh Air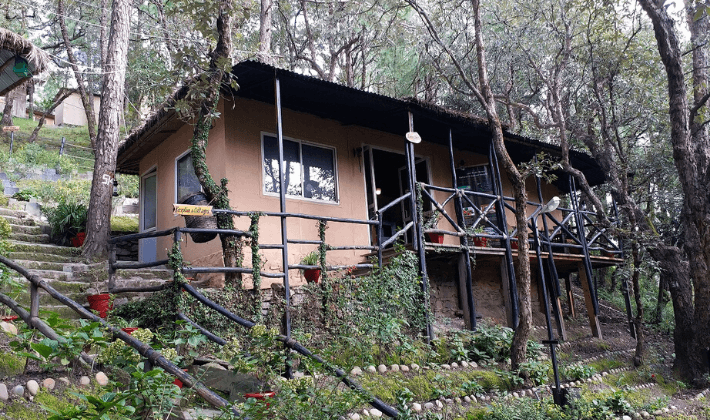 Shoghi (13 km away from Shimla) is a diminutive piece of paradise. A day at Aamod is never without action. You can open your windows early morning and enjoy the majestic view and fresh air. And with this begins your day full of surprises. Savour the team breakfast in the sprawling lawns or play interesting team building games with the help of our multitude of facilities.
Aamod is famous for its freshly baked goodies in its bakery. And offers amenities like spa & massage, bicycle on rent, bonfires, on-site basketball, mountain biking, hiking trails, and meeting rooms.
Patan Mahal – Go back To A World That Doesn't Exist Anywhere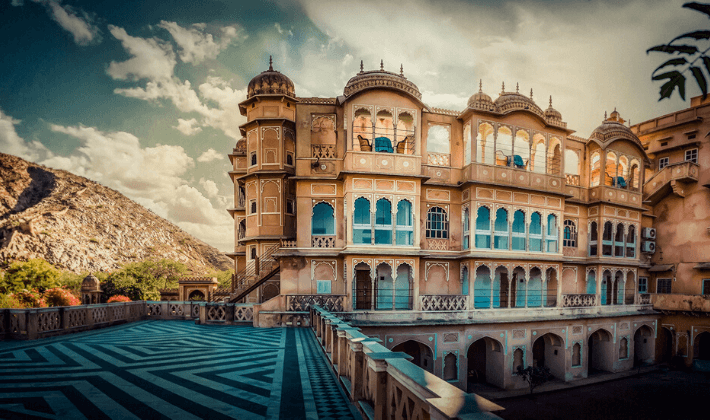 Patan Mahal is Heritage Resort built in the 12th century. Situated in the valley formed by three hills it rises in a distance at the end of the city.
Spend your time walking through the fields or take a refreshing dip in the swimming pool, or laze around the pool area which offers a stunning view of the surrounding hills and the palace.
Patan Mahal is famous for its dense farms and offers amenities like a swimming pool and 18 deluxe rooms, and also make arrangements for heritage walks and village walks, trekking, nature trails, and bird watching.
Jim's Jungle Retreat – Find yourself In The Forest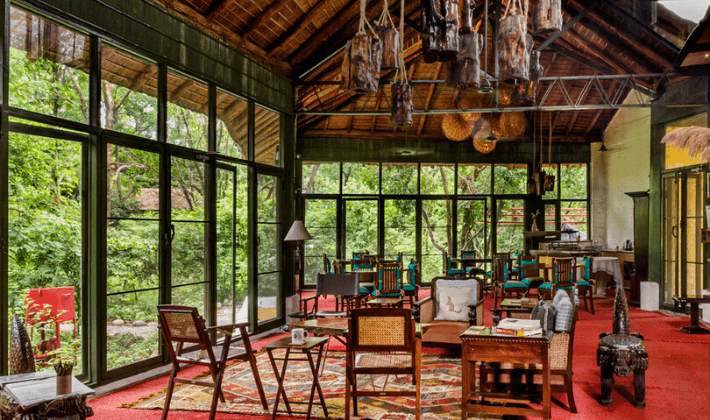 Jim's Jungle Retreat is a wildlife lodge in Corbett Tiger Reserve. The retreat is nestled between the Himalayan foothills in the north and the ancient Shivaliks in the south.
The furniture is designed with extensive use of local craftsmanship and material, and each uniquely-styled residence inspires charm and exclusivity.
If you are on the lookout for an invigorating yet relaxing stay in Corbett National Park, then Jim's Jungle Retreat is the perfect amalgamation of luxury amid wilderness and unforgettable, immersive wildlife experience. Jim's Jungle Retreat is famous for its hospitality, and amenities like swimming pool, and organic farms.
The Terraces – Pamper Yourself With A Good Spa In The Himalayas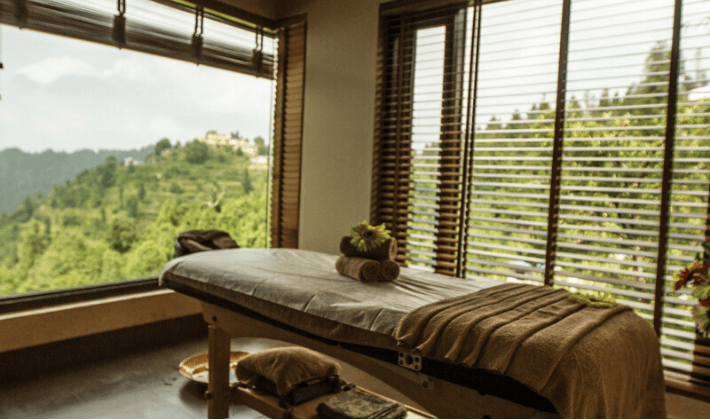 The Terraces, a boutique spa resort that is a precious jewel in the crown of Uttarakhand gives you a remarkable, alluring, and bracing holiday experience.
Set amidst majestic forests of pine, deodar trees, magnificent rhododendrons, fruit-bearing apple trees, terrace farms intricately carved along hillsides, chirping birds all around and the fresh, invigorating mountain air, the impeccable lodging, travel, wellness, adventure, conference, dining, and entertainment facilities at The Terraces blend beautifully with nature's bounty.
It is famous for its rejuvenating spa and massages and amenities like Spa Essencia, gym, and jacuzzi.
Khas Bagh – Stay Like A Royal And Feel Like A Royal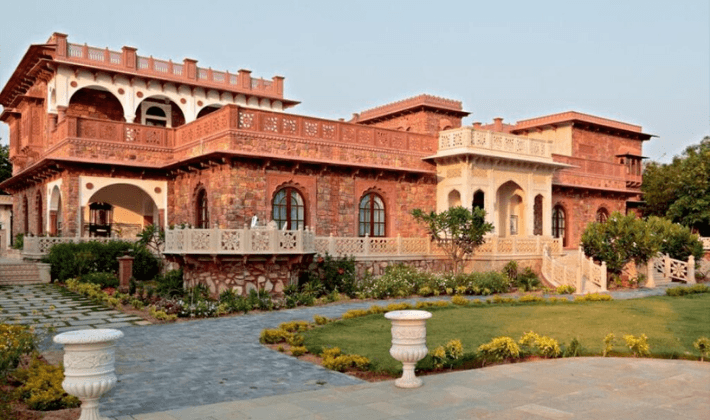 On the outskirts of Jaipur, close to its ancient capital Amber, is Khas Bagh a farm retreat tucked away in the Aravali hills. 
Khas Bagh is an authentic luxurious homestay experience beckons you on the outskirts of Jaipur. The heritage style haveli with its magnificent sandstone pool, sprawling lawns, and verandas overlooking the hills is a place where you will want to come back, more than once.
Khas Bagh is famous for its Polo Lounge and offers amenities like Polo and Horse Riding, Horse and Elephant Safari, and Cycling. Enjoy your holidays in the lap of luxury and royalty.
Over to You
TripOffbeat is your Trusted Travel Partner for on-demand and special holiday breaks, offering you an Easy Selection of Handpicked & Verified Offbeat Stay options, backed by Personalized Service to give you 100% Delight every time, any time. We understand all your needs and listed resorts especially for you. Gift a short holiday to yourself.
Don't wait; book your favourite destination to spend your upcoming weekend break. If you still want to ask something from the travel experts, help is just a call away. Call: +91-9990124333