Do you want to enjoy the snow? But worry about where to go and you don't have much time to travel long. We have picked some amazing snowfall places near Delhi that will delight you. Sometimes you just can't beat your holidays or weekends. With thick, powdery snow to stomp through, majestic peaks to ski down and gorgeous resorts to curl up in at the end of a long day exploring.
Time to finally enjoy the day you are dreaming of…Just don't forget to pack your camera to capture the amazing scenery. Enjoy snowball fights with your friends, make a snowman, go trekking or enjoy a cozy bonfire. It is always fun to see white snow.
Amazing Snowfall Places Near Delhi
Gift your family a memorable and an offbeat holiday. Enjoy with your family or friends and give your life an offbeat boost. Here are ten topmost offbeat places near Delhi to enjoy snowfall.
Auli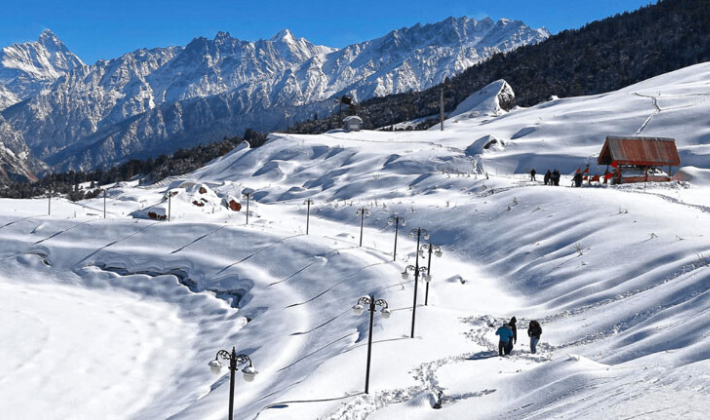 Auli is the best snow destination for skiing lovers. It is about 10 hours drive from Rishikesh in Uttarakhand. It is famous for its perfect, snow-clad slopes. One can enjoy some beautiful panoramic views of the tall, lofty mountain peaks of the Himalayas, such as Nanda Devi, Mana Parvat and Kamat Kamet. One can also plan a trip to Joshimath, a place of deep religious significance to the Hindus located very close to Auli.
Every year there is a Skiing competition in February. Suggested Quality Stays: Clifftop Club, Himalayan High, XRA
Narkanda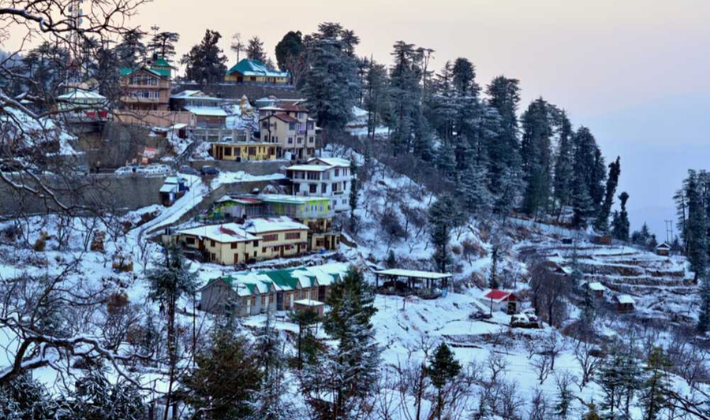 Narkanda is a popular hill station, ideally settled between the valleys of rivers Giri and Sutlej in Himachal Pradesh, and is about 64 kilometers from Shimla. Famous for its skiing, angling, and other winter sports facilities and its scenic views of snow-clad mountains make it a popular tourist destination in winters.
The mountain slopes come alive with skiers during the winter season. Skiing in Narkanda began in 1980 and ever since then HPDC is conducting skiing courses every year for thousands of tourists visiting Narkanda. One can hire skiing equipment and other required sports gear here for undertaking skiing. Narkanda witness's snowfall in the last week of December.
The coolest temperature during the winters is around minus ten degrees (-10°C), and the maximum temperature tends to be around fifteen degrees (15°C). Suggested Quality Stays: Agyaat Vaas, Tethys Ski Resort.
Nainital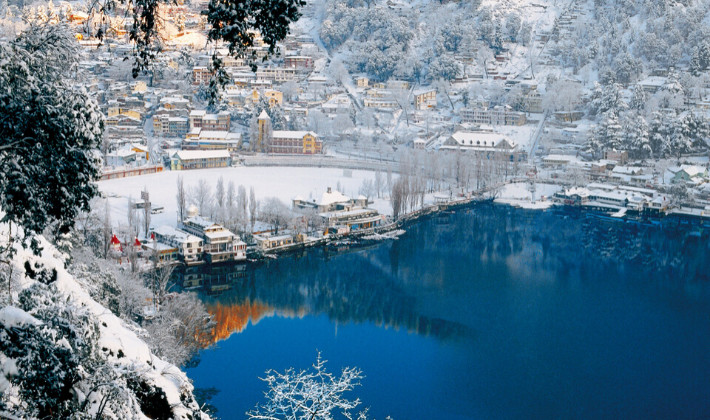 Nainital, the prized possession of Uttarakhand crowned atop the Kumaon hills, is a quintessential hilltop hamlet, which has everything it takes to please the avid traveler. Situated 1,938 meters high and 280 kilometers away from Delhi, Nainital is one of the most picturesque hill stations in India. Nainital has a look and feels that it is fascinatingly fabulous, to say the least.
The famous Naini Lake, a shimmering water body enveloped by green hills on three sides gives it an alpine feel, with the famous Mall curving around its banks. The Mall Road, a lively promenade that overlooks the lake is one of the main attractions here. There is also a bunch of tourist spots peppered around the tasteful town making it the perfect setting for a family holiday.
From boating to feeding animals at the zoo; from picnicking on the hills to exploring Jim Corbett's home, Nainital is a serene hill station filled with many attractions. One of the best places to view snowfall in Nainital is from the Snow Point, especially during End December & January.
Suggested Quality Stays: Solitude by the Riverside at Nainital, Aamod at Bhimtal, Fredy's Bungalow at Bhimtal.
Munsiyari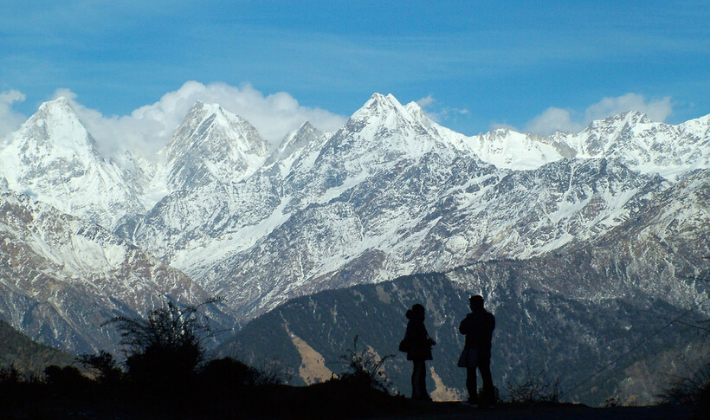 Munsiyari is a comely hamlet situated in the Pithoragarh district of Uttarakhand. Nestled in the snow-capped peaks of the Himalayas, Munsiyari offers splendid vistas of natural beauteousness. This scenic hill station is perched at an altitude of 2298mts above sea level. Munsiyari translated means place with snow and is also referred to as Little Kashmir.
It offers stunning views of snow-capped higher Himalayan ranges. The Virgin environs of the valley offer breathe taking views of the surrounding mountain ranges. It is famous for its picturesque beauty and trekking excursions and is popular with high altitude trekkers and adventure enthusiasts as this place is the base of Milam, Ralam and Namik Glaciers.
The view of the Panchachuli peaks from Munsiyari is enchanting. Winter in Munsiyari starts from November till mid-March. The whole area will be covered with sheets of snow, this time is favorable for honeymoon couples or adventure tourists for skiing and other snow activities. Snowfall expected late December to early February.
Suggested Quality Stays: Himalayan Glamping Resort
Khajjiar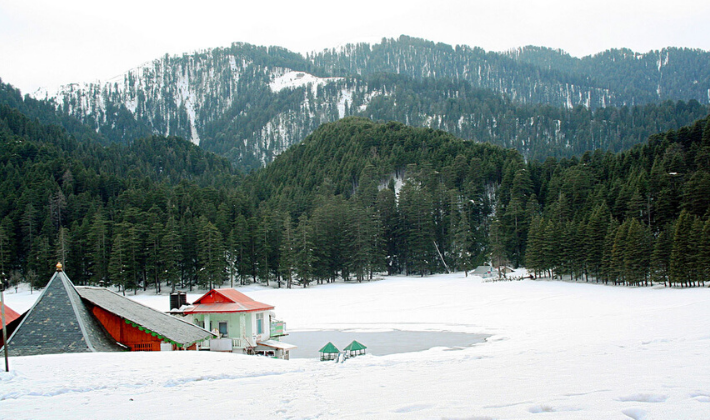 Often referred to as 'mini-Switzerland of India', Khajjiar is a small town near Dalhousie which provides tourists a unique combination of forests, lakes, and pastures. The mesmerizing beauty of this place has greatly influenced and inspired many kingdoms throughout the years, including the Rajputs and Mughals. Located at an altitude of 6,500 feet, the natural beauty and picturesque landscape of this place are bound to leave an everlasting impression on a tourist.
Khajjiar is known for its nine-hole golf-course which is nestled amid lush greenery. It is a small plateau that also has a small lake which is one of the most favored tourist spots in this town. Khajjiar is surrounded by green meadows and dense forests and it is also known for its beautiful temples.
This region also attracts adventure seekers and has a lot of options in adventure sports like paragliding, horse riding, zorbing, trekking, etc. Khajjiar is a must-visit place for everyone coming to Dalhousie and its nearby regions. If you go around December to February, everything is covered with snow. Suggested Quality Stays: Deodar Manor
Chopta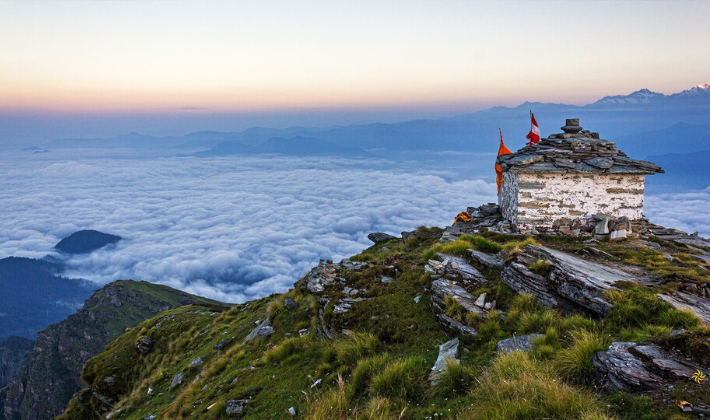 Chopra is a Hill Station and is located at an altitude of 2700 mt, in the Rudraprayag District of Uttarakhand State. Chopta is surrounded by dense forest, offers a majestic view of Snow-Clad Himalayan Ranges, and lush green meadows.
It is also the starting point of the trek to the famous Tungnath Mandir (Panch Kedar Temple) and Chandrashila Summit. The Chopta region is rich in varied flora and fauna, with plenty of Rhododendron and Deodar trees all around. Chopta is an unspoiled natural destination lying in the lap of the Himalayas and offers views of the imposing Himalayan range including Trishul, Nanda Devi, and Chaukhamba.
It's an ideal place for nature lovers and trekking enthusiasts. To enjoy the snow, you must visit from December to February.
Suggested Quality Stays: Pristine Peaks Eco Camp
Shimla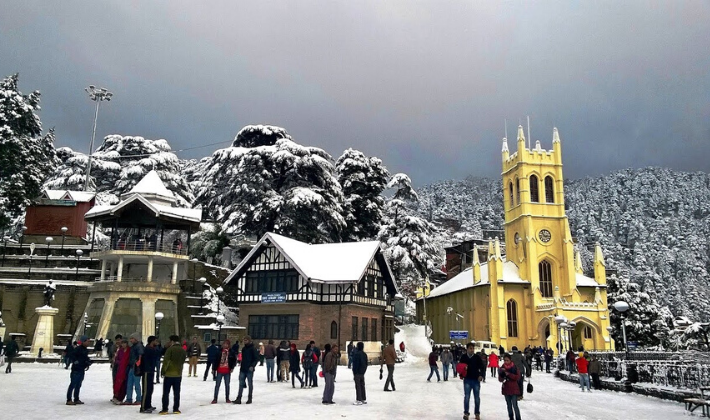 One of the most popular hill stations in North India, Shimla is an ideal place to visit in winters, especially for all the snow buffs and enthusiasts. Shimla no doubt has it all blessed by nature, that's why it is also known as Queen of hills. Places like Kasauli, Mashobra and Chail are located quite close to Shimla, and one can plan a day or two worth of a trip to these places as well.
It's also a romantic getaway for all honeymooners, with a lot of opportunities for idle romancing, adventure sports for bonding and beautiful nature views that inspire the romantic in you.
Suggested Quality Stays: The Chalet's at Naldehra, The Aamod at Shoghi, Agyaat Vaas at Narkanda, Mist n Meadows at Rajgarh.
Dalhousie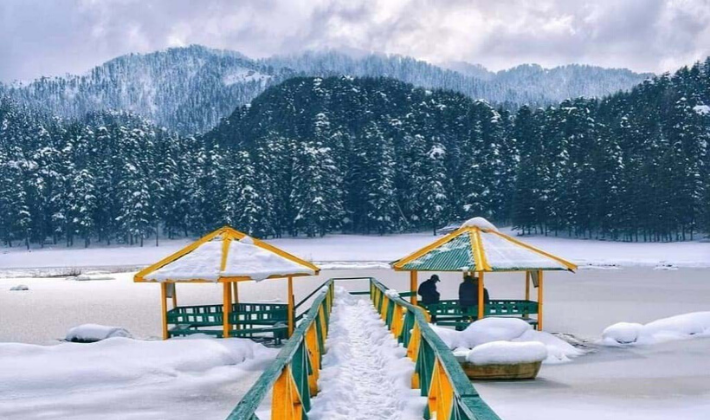 A very old and popular hill station in Himachal Pradesh clubbed with Khajjiar. It is a spectacular hill station and offers easily accessible locations, which provide ideal getaways for travelers. The majestic Dhauladhar range, the snow-clad Pir-Panjal range, and Lush Green Bathri Valley are amongst the many beautiful sights' visitors can feast upon.
Dalhousie is an ideal place for peace and thrill-seekers, visitors can enjoy level walks in the lush and colorful valleys. Also, it can go for treks in the dense forests offering enchanting views of the snow-covered mountains and the lush green valleys and rivers below.
Suggested Quality Stays: Sunny View
Manali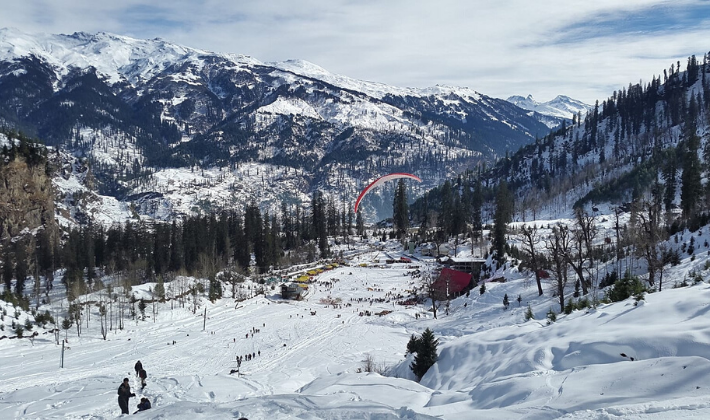 This is the ideal place for tourists, looking to unwind and rejuvenate in the lap of nature, for there is no place in the country more vibrant and charming as Manali. Situated 274 km away from Delhi, nestled in the River Beas Valley at a height of 2,050 meters above sea level lies the beautiful town of Manali.
You can visit this place at any time throughout the year. But the best time to visit Manali is December to January when Nanda Devi Peak looks stunning in white snow. A visit to Solang Valley and adventure sports activities such as skiing, mountaineering, and trekking are a must while you're in Manali.
Suggested Quality Stays: Larisa Mountain Resort, The Anantmaya Resort at Prini, Neeralaya Resort
Mussoorie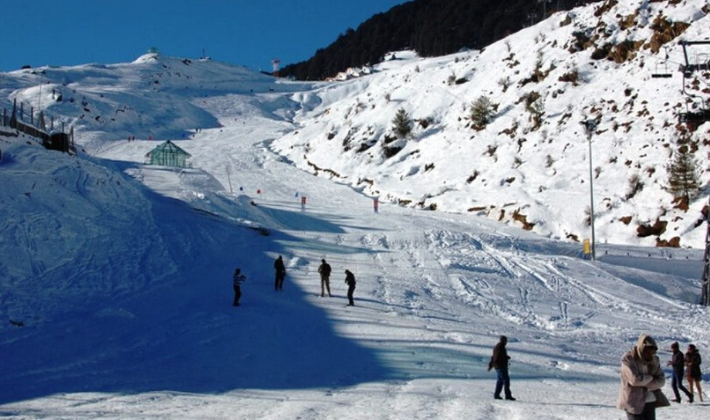 Located at an altitude of 1880 meters, Mussoorie is one of the most beautiful hill stations among all, where you can enjoy watching the snowfall. With its green hills and varied flora and fauna, Mussoorie is a fascinating place with commanding snow ranges to the northeast and glittering views of the Doon Valley and Shiwalik ranges in the south.
This old English town was once said to present a 'fairyland' atmosphere to tourists. Despite the crowds and bustle, there's an unworldly peace surrounding the Queen of Hills.
Suggested Quality Stays: Seclude at Mussoorie, Rokeby Manor at Landour
Over to You
Winters bring the end of a year and the beginning of another, so let us make your winter holidays special. Explore unexplored treasures of Incredible India with our best offbeat destinations to spend your winter vacations.
TripOffbeat will be your helping hand you are looking for. Don't wait; book your favorite destination to spend your upcoming weekend break. If you still want to ask something from the travel experts, help is just a call away. Call: +91-9990124333