Winter heralds the beginning of the peak season for vacations in India, where few look for a warm weather escape while others enjoy the snow and colder climes. There's no shortage of places near Delhi that you can escape to for a quick weekend break. Delhi sits in the center of some of the most charming states like Rajasthan, Himachal, Uttarakhand, Himachal Pradesh, and Madhya Pradesh with a rich cultural heritage, popular attractions, and mind blowing cuisine.
This article is for those people in and around Delhi who want to take a break and explore some new, exciting offbeat places this January.
Check out our list of 10 offbeat getaways near Delhi to plan your weekend break:
Panna Tiger Reserve, Panna, Madhya Pradesh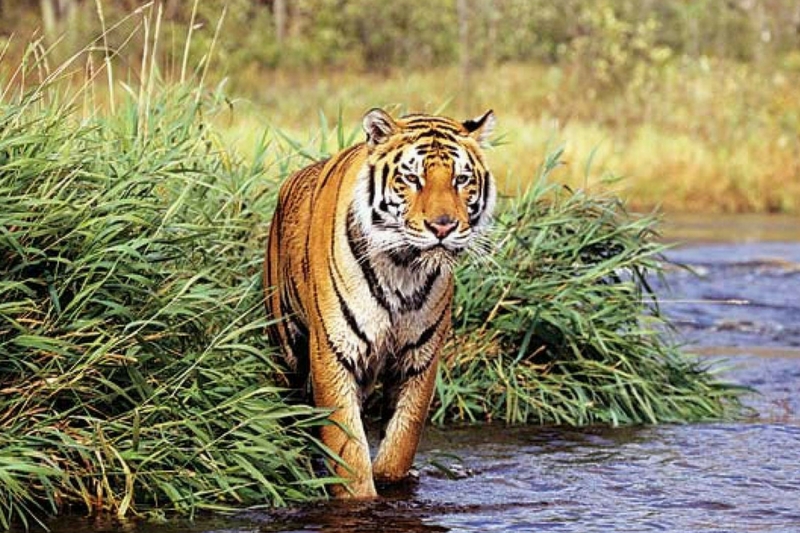 Panna National Park is spread over 1645 sq. km was carved out of the hunting reserves of Panna, Bijawar and Chatarpur states. In 1994, it became India's 22nd Tiger Reserve. It is predominantly an open forest and offers great opportunity to view animals like Tiger, Sloth Bear, Cheetal, Sambhar and Nilgai. Panna is also home to crocodiles and over 300 species of birds. Panna is the land of cascading waterfalls- Raneh falls and Pandav falls are a great attraction, both are situated in the reserve forest.
Stay at  Ken River Lodge
Narkanda, Shimla, Himachal Pradesh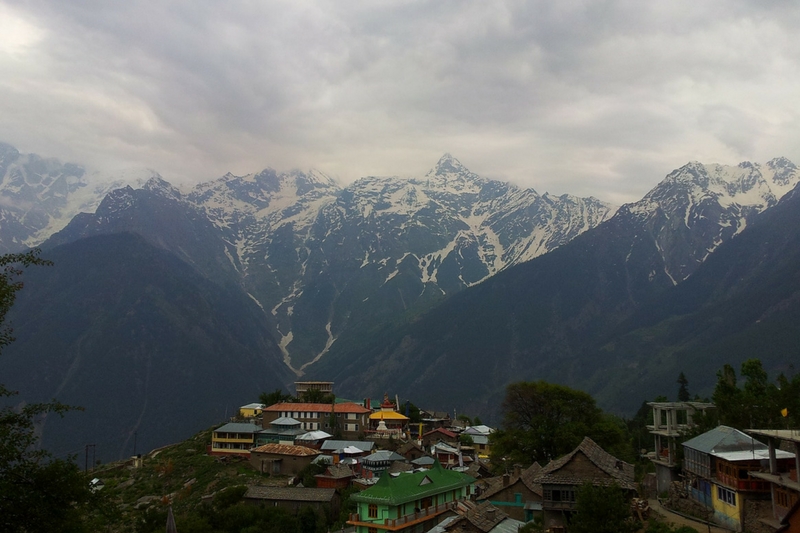 Narkanda is a popular hill station, ideally situated between the valleys of rivers Giri and Sutlej in Himachal Pradesh, and is about 64 kilometers from Shimla. Famous for its skiing, angling and other winter sport facilities and its scenic views of snow clad mountains make it a popular tourist destination in winters. The mountain slopes come alive with skiers during the winter season. Skiing in Narkanda began in 1980 and ever since then HPDC is conducting skiing courses every year for thousands of tourists visiting Narkanda. One can hire skiing equipment and other required sports gear here for undertaking skiing.
Stay at Agyaat Vaas, Tethys Ski Resort
Pench Tiger Reserve, Pench, Madhya Pradesh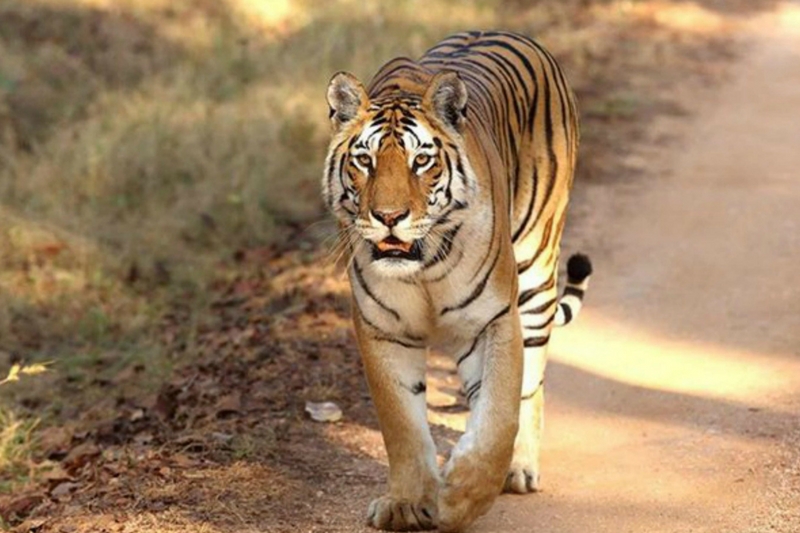 Pench is one of the top most destinations for wildlife tourism in Madhya Pradesh, albeit a little less famous and popular than the other star attractions of the Madhya Pradesh Tiger circuit- Kanha and Bandhavgarh.
The Pench National Park is named after the Pench River, which flows from north to south through the park. This river constitutes the district boundary of Seoni and Chhindwara districts of Madhya Pradesh in the upper region and State boundary with Maharashtra State in the lower region. This area became the 19th Tiger Reserve of India in 1992. The Tourist traffic is experiencing a very fast growth in this park. The Pench National Park which constitutes the core of the Tiger Reserves was notified in the year 1983. The total area of the park is 292.85 sq.kms.
The popular fictional works of Rudyard Kipling, The Jungle Book and The Second Jungle Book also have their stories set around this region. It is for this reason that Pench is often known as the original land of Mowgli.
Stay at  Kohka Wilderness Camp
Dalhousie, Himachal Pradesh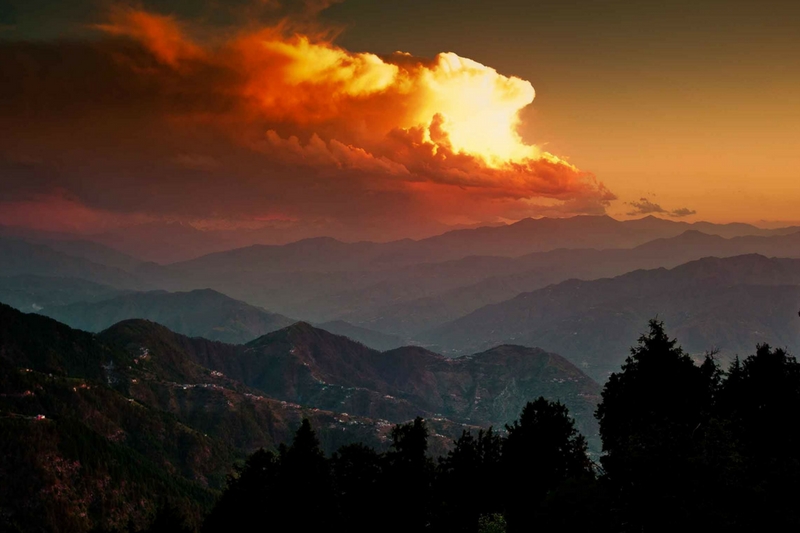 Dalhousie is a very old and popular hill station in Himachal Pradesh, clubbed with Khajjiar. It is a spectacular hill station and offers easily accessible locations, which provide ideal getaways for travellers. The majestic Dhauladhar range, the snow-clad Pir Panjal range and Lush Green Bathri Valley are amongst the many beautiful sights visitors can feast upon.
Dalhousie is an ideal place for peace and thrill seekers, visitors can enjoy level walks in the lush and colourful valleys. Also, can go for treks in the dense forests offering enchanting views of the snow covered mountains and the lush green valleys and rivers below.
Stay at  Sunny View
Auli, Uttarakhand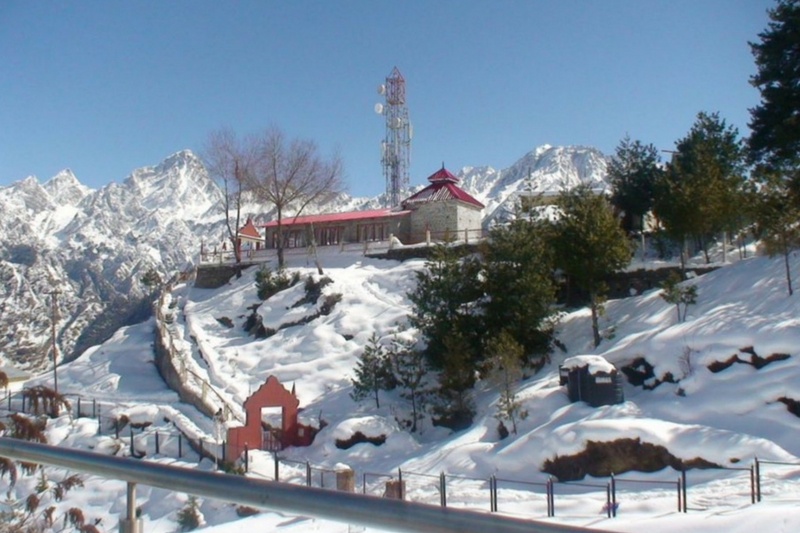 Auli is the best snow destination for skiing lovers. It is about 10 hours drive from Rishikesh in Uttarakhand. It is famous for it's perfect, snow-clad slopes. One can enjoy some beautiful panoramic views of the tall, lofty mountain peaks of the Himalayas, such as Nanda Devi, Mana Parvat and Kamat Kamet. One can also plan a trip to Joshimath, a place of deep religious significance to the Hindus located very close to Auli. Every year there is a Skiing competition in February.
Stay at Cliftop Club, Himalayan High, XRA
Chambal, Rajasthan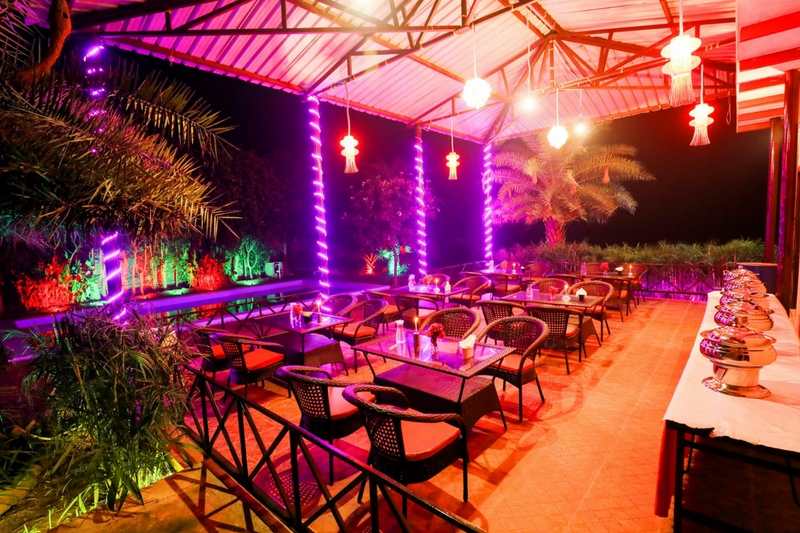 The Chambal River is a tributary of the Yamuna River in central India, and thus forms part of the greater Gangetic drainage system. The river flows north-northeast through Madhya Pradesh, running for a time through Rajasthan, then forming the boundary between Rajasthan and Madhya Pradesh before turning southeast to join the Yamuna in Uttar Pradesh state.
If your idea of a perfect holiday is relaxing under the sun in a pool having mocktail or making the most out of an evening under grooming moon light & sparkling stars in bonfire having sips of wine, then Chambal Paradise is a one stop destination to make your holiday a perfect one.
Stay at Chambal Paradise, Chambal Safari Lodge
Chopta, Uttarakhand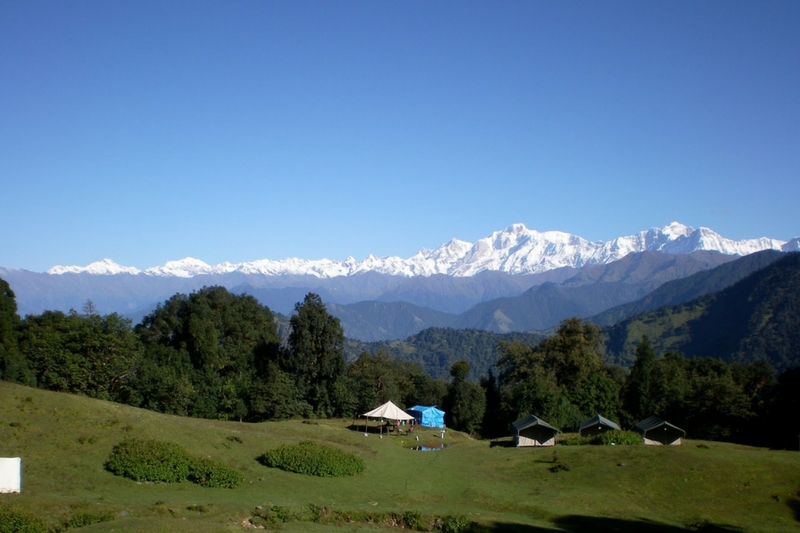 Chopta is a Hill Station and is located at an altitude of 2700 mts, in the Rudraprayag District of Uttarakhand State. Chopta is surrounded by dense forest, and offers majestic view of Snow Clad Himalayan Ranges and lush green meadows. It is also the starting point of the trek to famous Tungnath Mandir (Panch Kedar Temple) and Chandrashila Summit . The Chopta region is rich in varied flora and fauna, with plenty of Rhododendron and Deodar trees all around. Chopta is an unspoiled natural destination lying in the lap of the Himalayas and offers views of the imposing Himalayan range including Trishul, Nanda Devi and Chaukhamba. Its an ideal place for nature lovers and trekking enthusiast. To enjoy snow, you must visit during December to February.
Stay at Pristine Peaks Eco Camp
Churu, Rajasthan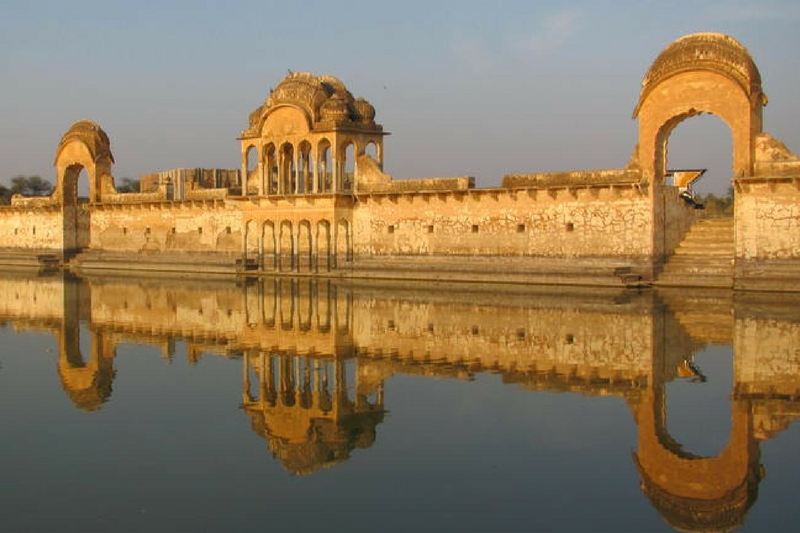 Churu is a city in the desert region of Rajasthan state of India. It is known as gateway to the Thar Desert of Rajasthan. Haryana is in the east of Churu district and Bikanir district lies to its west. Churu district was a part of the state of Bikaner till India gained Independence. It came to existence only in the year 1948. The major towns of the district are Sujangarh, Ratangarh, Rajgarh and Bidasar. Located in Churu district, the Talchhapar Sanctuary is known for its rare black-buck. Apart from the black-buck, some of the other wild animals spotted here are jungle cat, chinkara and varied species of migratory birds. This sanctuary is located at a distance of 85 kilometers from Churu.
Stay at Malaji ka Kamra
Ghanerao, Rajasthan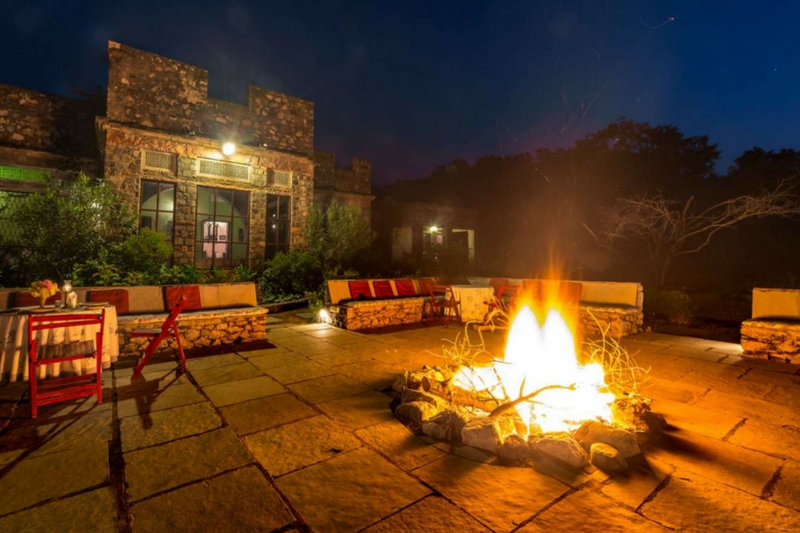 This is an ideal place for people interested in natural flora and fauna and for peace and spiritualism as it takes you away from the cities and allows you to explore in peace and tranquility. In the evenings, one can relax back at the lodge with a bonfire and enjoy the beautiful star lit nights. Adjoining is the 10th Century Muchala Mahavir Jain Temple and the Garacia tribal holdings. A twenty minute trek takes you to a crocodile dam where one can spot the oldest crocodile Bhima who will even pose for you, if in mood. The magnificent and the only unconquered Kumbhalgarh Fort is a 15km trek amidst the lush green forest, a sumptuous lunch/tea can be organised enroute or at fort. The World famous Ranakpur Temples, the 17th Jain Temples are just 15 km away, its one's prerogative whether one wants to trek or choose jeep or horse safari.
Stay at  Jungle Lodge
Bhainsorgarh, Kota, Rajasthan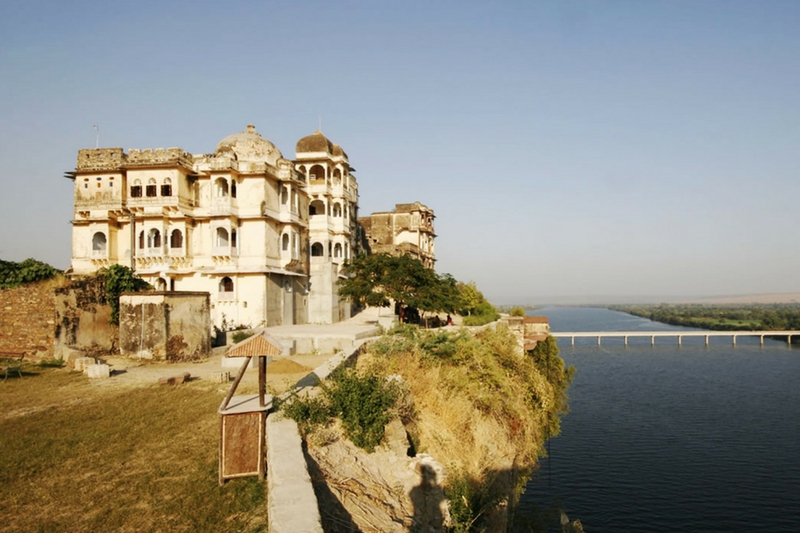 A fortified outpost of the kingdom of Mewar that included Chittorgarh and Udaipur, Bhainsrorgarh is located 235 kilometers northeast of Udaipur and 50 kilometers south of Kota and has a remarkable history. Built by Rawat Lal Singh (second son of Rawat Kesri Singh of Salumber), Bhainsrorgarh was granted as a jagir (fiefdom) by Maharana Jagat Singh II of Mewar in 1741 A.D.
Dramatically perched over the shimmering Chambal river, on a steep slate ridge about 200 ft high, your first glimpse of Bhainsrorgarh Fort will literally take your breath away. British historian Col. James Todd after seeing the splendid and mesmerizing beauty of Bhainsrorgarh said that if he was offered a Jagir in Rajasthan and given the option to choose, it would be Bhainsrorgarh. Little wonder, Bhainsrorgarh has been rated as the Best Heritage Hotel in India by Tatler Travel Guide, UK. ( 2008, 2009 ).
Stay at Bhainsrorgarh Fort