We all like a holiday that falls on a weekday and has a weekend following it…like an icing on the cake! However, planning a trip on each long weekend is no cake walk. You can sit back and relax. We've got you covered with our list of places and resorts all planned well ahead in time for you.
January is the best time to visit Rajasthan and Madhya Pradesh. The summers in Rajasthan and MP are hot and humid with the average temperatures rising up to as high as 45 degrees Celsius at times. So january being the best time to visit these places as the sun is not as intense and the days are pleasant.
Rajasthan is one of the most visited tourist states in India. It is visited very frequently by the global and domestic tourists. Rajasthan is very famous for its forts and places, culture and tradition, lakes and gardens. Vast expanse of golden desert also invites thousands of tourists to India. In this summer vacation, you can make a group and plan to discover the beauty and attractions of Rajasthan. It is also enjoyably to visit a place in a group as it lets you enjoy the place in very homely manner.
Here we are showcasing all the best places from Rajasthan. In our next blog we will cover Madhya Pradesh and its grandeur.
To make it easy for you to plan your time we have categorised places under 5 broad categories for you to choose: wildlife, desert, royal, heritage and honeymoon.
As per your mood and interest you can pick what interests you more.
Here are our five categories crafted for you to make the best of your weekends.
Explore Wildlife: Rajasthan is home to the most diverse wildlife. Get once-in-a-lifetime experiences.
Best Places to Stay and enjoy wildlife are:
Trees and Tigers Resort, Sariska Set amidst the sprawling lush landscape Trees & Tigers is a luxury resort that aims to provide its guests with the best cultural and wildlife experience. The resort is placed in the center of Aravalli hills acting as a home ground for more than 150 species of birds. The resort provides you with such an atmosphere that every season complements it's surrounding. In summers you can see a gathering of species around the lake showcasing their stunning colors and in the monsoon you can see an array of different birds flying from one end to the other flaunting their attractive features. And if you wish to dig deeper into wildlife we organize Jungle Safaris, Night Safaris and Nature tours that let you view the Royal Bengal Tiger, the Four Horned Antelope and many more species.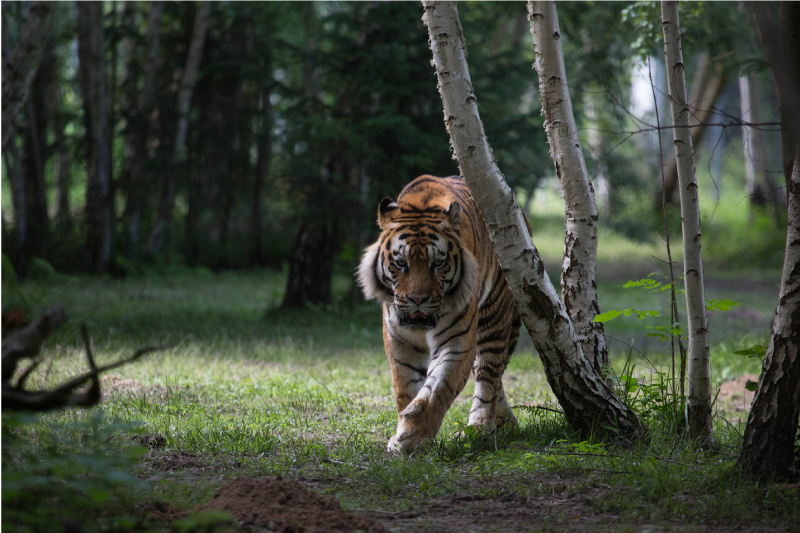 2. Majestic Desert: Enjoy the mirage-like golden sandstone city of Jaisalmer, in Rajasthan's Thar desert.
Best Places to Stay in Jaisalmer
Jaisalmer hotel for families, couples and single travelers who seek a carefree nature retreat, amidst the sun kissed Thar Desert. The Resort lies nestled in a verdant oasis, 55 kms away from Jaisalmer. Our goal is that you leave feeling better than when you arrived. So escape the hustle bustle of the cities and stay with us to rejuvenate your mind, body and soul. A Resort with its own organic farm and orchard, it is abundant with fruit, vegetables and flavorful herbs. The dairy and poultry products are farm fresh.All our tents have been crafted by hand using natural and local materials. A lot of the work at Mirvana Nature Resort and Camp is done by the rural people of Sodakore which is our contribution to rural and responsible tourism. This also helps provide employment to the village folk.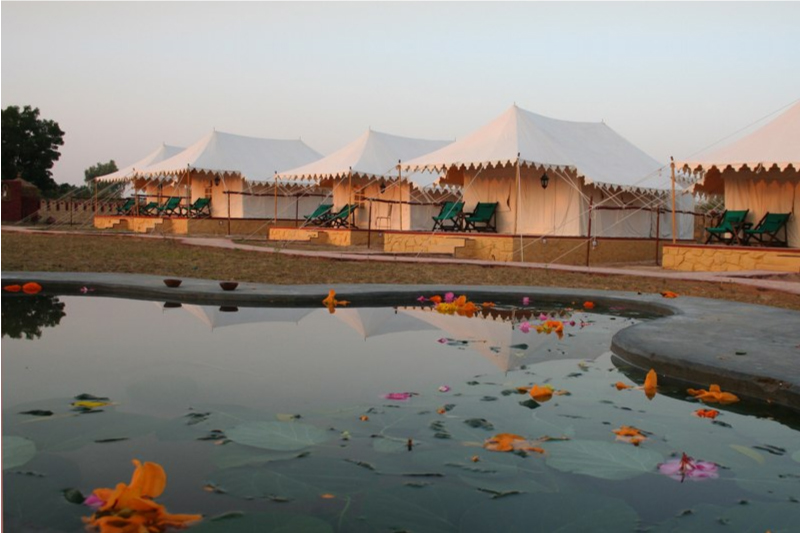 OASIS OSIYAN is the base camp at Osian (62 KM from Jodhpur). Osian is situated at the beginning of the Great Thar Desert. Camel Safaris into the desert are conducted from here. Osian is enroute if you are driving from Jodhpur to Jaisalmer / Bikaner / Khimsar / Nagaur or vice versa. Osian (Osiyan) is famous for its Hindu and Jain temples dating back from the 8th to the 11th centuries.
Osiyan was once a thriving business centre being a stop over on the silk route between Delhi and the Middle East. After having spent over two decades working for various organizations, specializing in the business of showing the great Indian state of Rajasthan to the visiting tourists, Raj Bakshi's love for camping and adventure made him venture out on his own and Safari Camp Osiyan was created. Out on a Safari and living under canvas.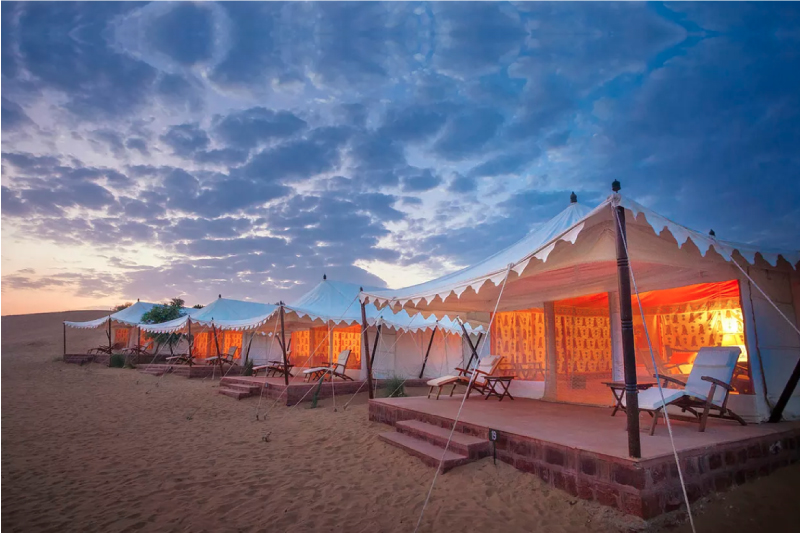 3.Experience Royal Rajasthan: Royal Rajasthan is well known for spectacular Forts and Palaces.
Best Places to Stay and experience royalty
Since 1989 it has been nurtured and developed with great love and care by the family into one of the finest Heritage hotels in the country. No new building has been added in the renovation process, but rather, old edifices have been skillfully redesigned to create a heritage property that has few parallels. A superb swimming pool with four charming pavilions entices you for a refreshing dip. Often dinner is served by the poolside as folk musicians enliven the evening atmosphere. An elegant, beautifully appointed lounge, serene verandahs, and terraces with breathtaking views, make perfect venues for relaxation. The thirty-four individually decorated rooms add a touch of class.The peace and tranquility of the environs have drawn writers from around the world. Rohet Garh has had the honour of hosting some of the most respected names in the literary world.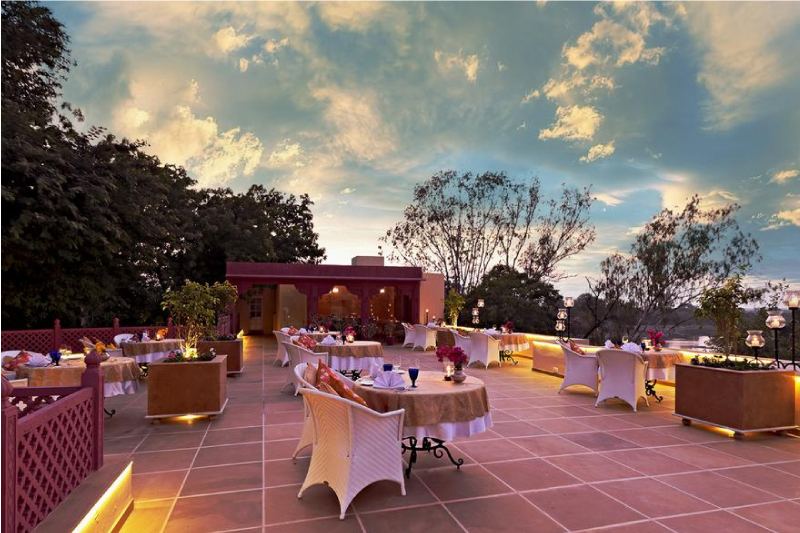 On the outskirts of Jaipur, close to its ancient capital Amber, is Khas Bagh a farm retreat tucked away in the Aravali hills. A stone's throw from the 12th century Amer Fort, Khas Bagh is built on the lines of a medieval style haveli with open courtyards, verandahs with arches and intricately carved stone pillars and jaalis, all hand craft by local craftsmen. Eighteen luxuriously appointed rooms with antique furniture, a pool and a polo lounge with black and white family photographs all add to providing an authentic bespoke Rajput stately home-stay experience As dusk settles in, it is time for a sun downer at Khas Bagh and then enjoy a barbecue with a bonfire in the outdoors or next to the swimming pool, listen to war stories from the host, Colonel Rathore, a retired special forces and a war veteran, or make yourself cozy at the Polo lounge.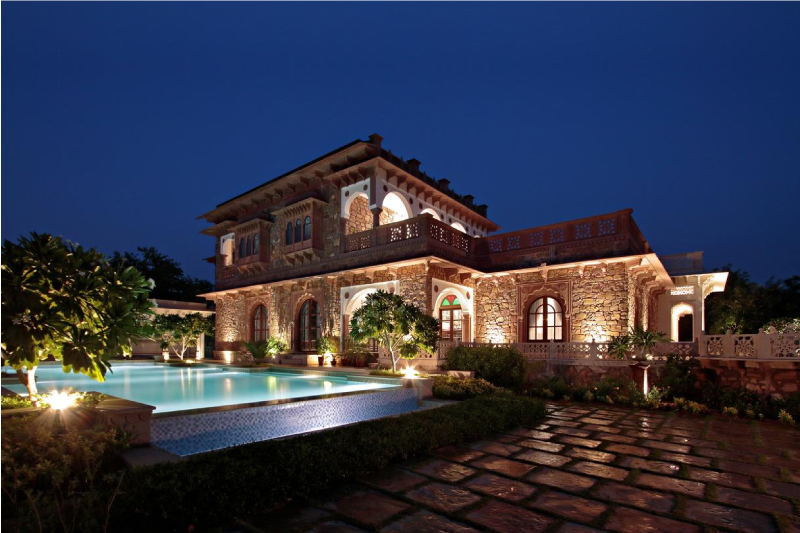 4. Royal Heritage: Discover the best heritage places in Rajasthan
Best Places to Stay and experience Heritage
A fortified outpost of the kingdom of Mewar that included Chittorgarh and Udaipur, Bhainsrorgarh is located 235 kilometers northeast of Udaipur and 50 kilometers south of Kota and has a remarkable history. Built by Rawat Lal Singh (second son of Rawat Kesri Singh of Salumber), Bhainsrorgarh was granted as a jagir ( fiefdom ) by Maharana Jagat Singh II of Mewar in 1741 A.D. Dramatically perched over the shimmering Chambal river, on a steep slate ridge about 200 ft high, your first glimpse of Bhainsrorgarh Fort will literally take your breath away. British historian Col. James Todd after seeing the splendid and mesmerizing beauty of Bhainsrorgarh said that if he was offered a Jagir in Rajasthan and given the option to choose, it would be Bhainsrorgarh. Little wonder, Bhainsrorgarh has been rated as the Best Heritage Hotel in India by Tatler Travel Guide, UK. ( 2008, 2009 ). Bhainsrorgarh held great importance to the Chundawat clan of Sisodia Rajputs, as it was granted to Rao Chunda after he renounced the Mewar throne for his yet to be born younger brother. As the eldest son of Rana Lakha, then ruler of Mewar, Chunda Ji was the heir apparent to the throne of Chittor. The Chief of Bhainsrorgarh was counted among the 16 first class nobles of Mewar and was conferred the title of Rawat by Maharana of Mewar.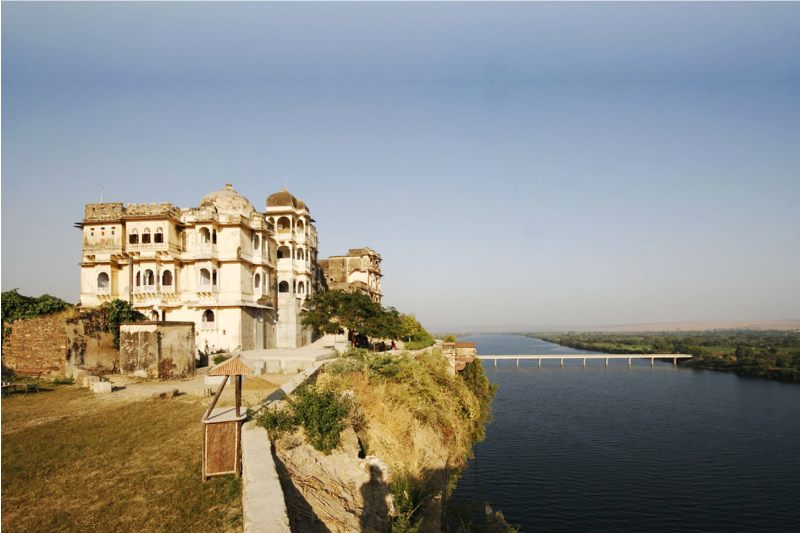 Shahpura bagh prides itself on providing an authentic bespoke home stay experience in Rajasthan. Life is unhurried here. The days filled with sunshine, conversation and picnics, fishing and boating on the lakes with lazy sundownners to trap the blazing sunset. Spontaneous excursions trace the history of the region through neighbouring forts and legends, rambles transform into safaris in the flash of a beckoning wing -the surrounding wetlands are a birdwatcher's paradise, tempting even to the uninitiated.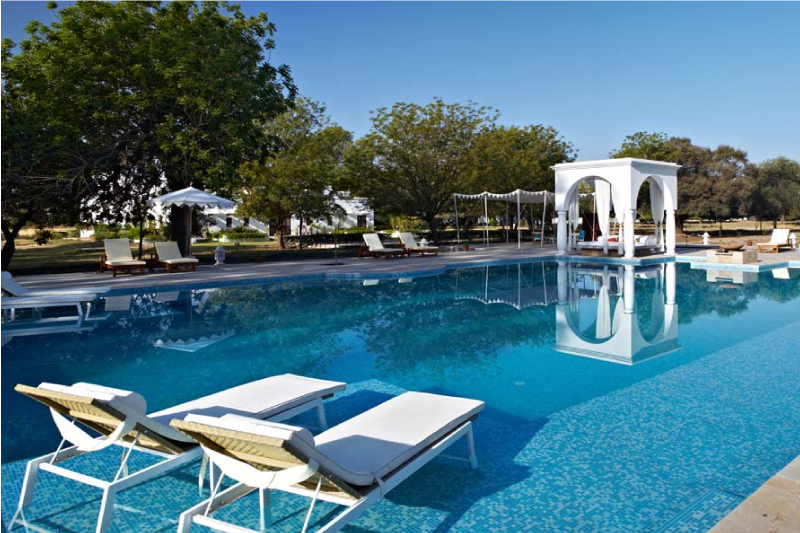 5. Honeymoon. What more can you need to enjoy a lovely honeymoon! Rajasthan guarantees that you fall in love with each other even deeper every day.
Best places to stay
Spread over 32 acres along the man-made lake, the 12 cottages have been meticulously planned and conceptualized with assistance from the vanguards of sustainable design, architects, Vasant & Revathi Kamat and designer duo Sahil & Sarthak. Merging Rajasthani design with eco sensibility, the twelve 900 sq ft mud and stone cottages, supplement the Mardana and Zanana and invoke an experience both private and symbiotic with nature. Influenced by the indigenous Rajasthani architecture, the cottages have been re-interpreted in sustainable design using locally sourced products like wood, stone and mud.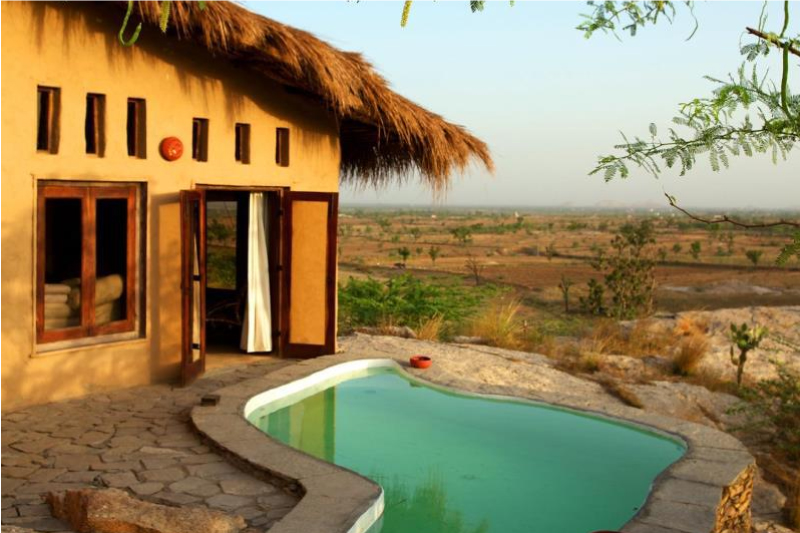 Maharani Bagh remains essentially a fruit orchard , acres and acres of mango, lime, pomegranate give way to clusters of lovely little cottages and intimate gardens in full bloom. There is a machaan with a spectacular view of the hills and the central dining area is a charming village courtyard complete with thatched roofs and delicious Rajasthani cuisine. The nature resort is spread over acres of lush green land, abundant in flora and fauna offering the guest a comfortable stay in the midst of nature in its pristine form. The orchard is surrounded by the beautiful Aravali hills and used to be the favorite holiday resort for the royal family.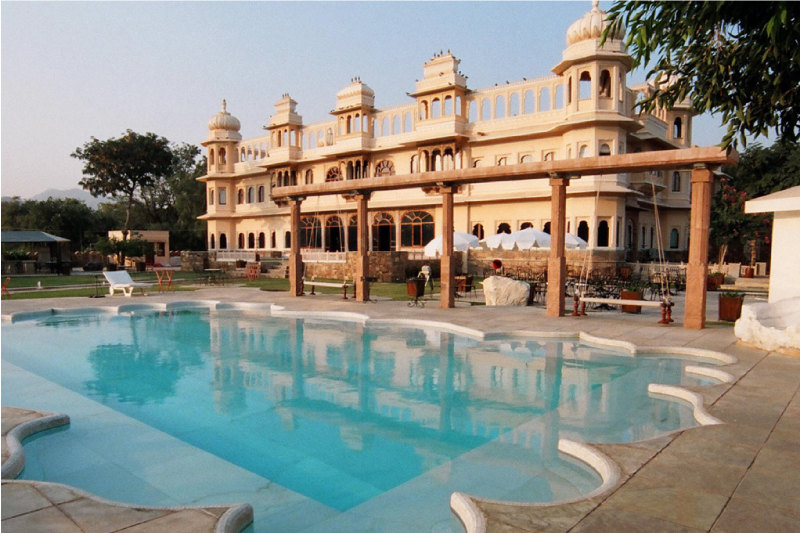 With our crafted travel places as per category is sure to make you travel experience great. So what you are waiting for. Start planning your next weekend now.