Yes, we know that the monsoon is drawing to a close and you are searching for places to travel in monsoon.  You wish you could enjoy a short vacay to enjoy the rains. So, we are here with Wondering where to go? We've got it sorted for you with a list of offbeat holiday spots that'll drench you with joy and leave your soul satisfied!
Best Places To Travel In Monsoon
Don't miss this beautiful weather and enjoy the monsoon season with your dear ones or all alone to explore and give yourself a short break. Look at these best places to travel in monsoon and enjoy a beautiful vacation with your friends and family.
Amritsar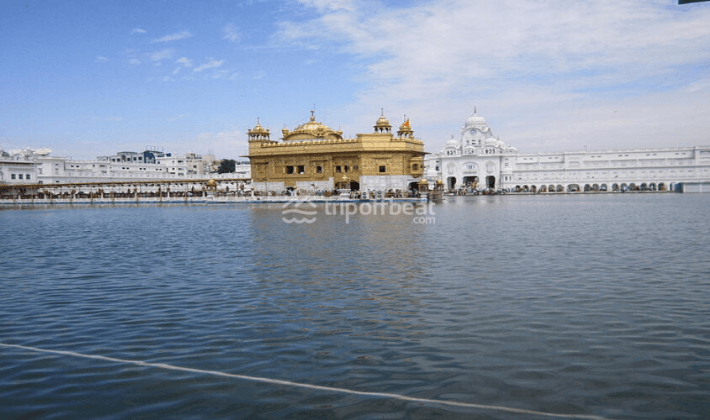 Piety, nature and history. All this and more awaits you in Amritsar. September, especially the end of the month, sees occasional showers, which leave the city fresh and verdant, bathed in breath-taking greenery. Of course, the holy city has many attractions.
Make it a point to visit the Golden Temple, Jallianwala Bagh, Chand Baori, Durgiana Temple, Govind Garh Fort, War Museum, among others. It is best to visit the Golden Temple twice in the same day – once in the day time and then in the night so you can see the amazing shrine bathed in lights.
That, folks, is a sight to behold. Don't miss a trip to the Langar Hall in the Golden Temple Complex as it will be an experience of a lifetime. Jallianwala Bagh, with its bullet marks in the wall, still speaks to you in the voices of the innocents who lost their lives here.
There is a gallery on the premises as well, which features images of martyrs and other moments of historical significance. Go on and pay tribute to the symbol of India's struggle for freedom.
Whether you are an Indian tourist or a foreigner, a trip to the Wagah Border is another must-do while you are in Amritsar. About 28 km from the city, it is the only open border between India and Pakistan which is officially accessible to both nations.
The 'lowering of the flags' or Beating the Retreat ceremony starts at around 5.30 pm. Patriotic fervour is at fever-pitch during the ritual, with cries of Jai Hind and Pakistan Zindabad reverberating in the air. Private taxis can be hired to reach the venue and it is advisable to reach a bit early to secure a good vantage point.
Shillong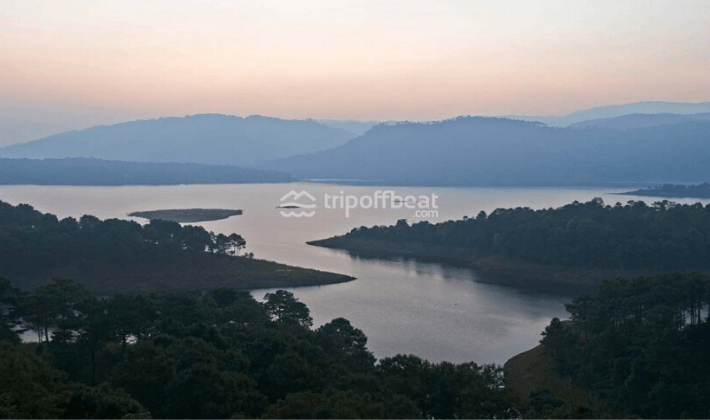 From waterfalls, lakes and mountain peaks to zoos, museums and trekking trails, this destination has something for everyone. And in September, with the rain bidding us farewell, it is the ideal time to go boating and sightseeing. The capital of Meghalaya indeed has some capital delights!
About 17 km from Shillong is the scenic Umiam lake which is perfect for boating, water skiing and sailing. The crystal clear water adds to the charm, of course. And yes, fishing is an option here as well as it is known as the Anglers' Paradise in Meghalaya.
If rafting is more your thing, then Ranikor is where you should head to. About two and a half hours from the city, this will give you thrills like never before.
Closer to the city – about 18 km – is Barapani Lake, which offers the same experience and is great for first-timers at rafting. Kayaking is where your heart is at? Kenshi River is your go-to place. However, do ensure that it is not raining heavily as it isn't safe to be in the water then.
For a jaw-dropping view and experience, Elephant Falls is where you should be. With an elevation of 40 feet, rappelling here is an instant hit. Your thirst for adventure will be duly quenched!
One of the places you must not miss is Shillong Peak. The highest point in Meghalaya – 1966 metres – this point offers you a bird's eye view of the city. Plus you can go horse riding too! And if trekking is more your thing, then David Scott's trail is perfect to get those boots on.
In fact, camping is another activity you can indulge in while you are here. Pitch a tent in the Khasi Hills and enjoy life as it should be amidst rolling hills and the scent of pine trees tickling your nose.
Of course, your vacation will be incomplete without a trip to Cherrapunji, the wettest place on earth! Heavenly mist, rolling fog and scenic beauty that is unearthly await you here. Keeps your wits about you though as it is easy to lose yourself in a dream world as you soak in the beauty.
Don't forget to go shopping at Police Bazaar and a trip to Shillong Golf Club will be memorable as well. Mere words don't do this North-Eastern gem any justice… You've got to be there, folks!
Bhimtal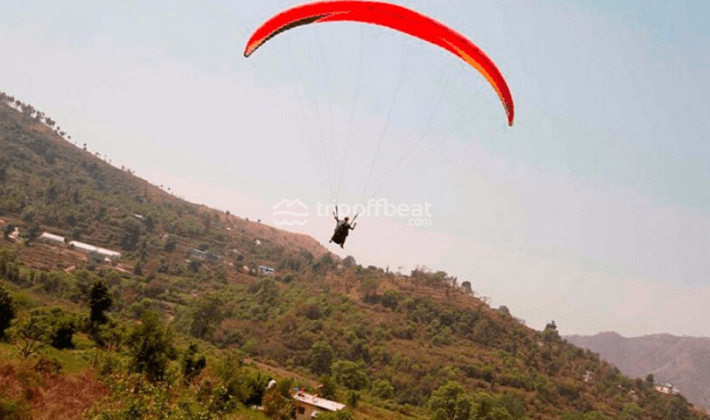 At an altitude of 1,371 metres above sea level, nestled in the Kumaon hills is the beautiful and serene Bhimtal. Named after the legendary warrior – Bheem – in the Mahabharata, it is about 23 km from Nainital and is surrounded by soaring mountains, verdant forests and picturesque temples.
The main tourist attraction here is the lake, of course, which is one of the largest in the district. The inviting lake with its clear blue water offers serene boat rides to the island in the middle of the water body, which houses an aquarium with a variety of exotic fish.
For those among you who prefer to walk through a new destination to soak in the culture and ethos of a place, a quiet saunter through the forest surrounding the lake is a great option. With birds chirping and nature whispering right into your ear, there isn't anything else you'd ask for.
Bhimtal also boasts of a Victorian Dam at one end of the lake and it is definitely worth a dekko. As you are now away from the match-box sized apartments we call home in the cities, be awestruck by the farmhouses set among terraced fields, all flaunting the local and rather enviable flora. It is definitely like being in another world!
Do remember to stop by at the small dhabas and savour the local cuisine. Don't expect fancy culinary delights but we are sure the lip-smacking simple food will leave you craving more. Another must-visit is the Folk Culture Museum, which houses artefacts and interesting information about the hilly districts.
Hiking, trekking, paragliding are some of the other activities that you can indulge in, in Bhimtal, which the thrill-seeker in you will thank you for.
The simplicity of life here will make you wonder about the unnecessary trappings we burden ourselves with… Discover a simpler you in Bhimtal!
Nainital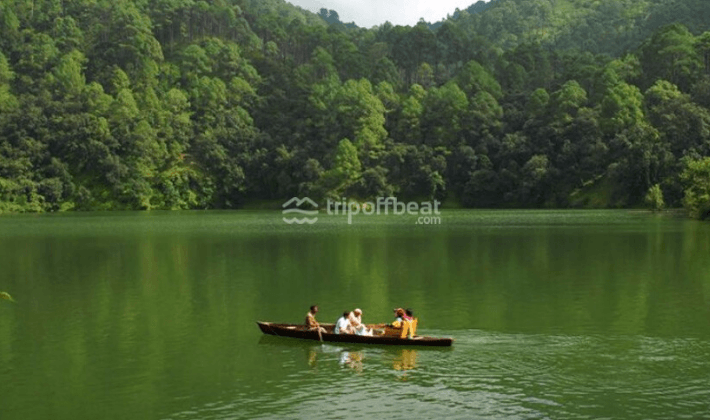 Listed as one of the top 10 hill stations in India, Nainital is smack in the lap of Uttarakhand. About 2084 metres above sea level, it is guaranteed to give you a jaw-dropping experience of a lifetime.
From walking tracks and charming cottages to vibrant markets and plenty of eateries, the Lake City simply has it all. Of course, one of the first things you'll probably do (as we assume you should!) is enjoying a boat ride around Naini Lake. In just about half a day, you can cover Bhimtal, Naukuchiyatal, Khurpatal as well as Sat Tal.
And don't forget to stop by at any of these lakesides for a scrumptious meal! Nothing makes you feel more at peace and ease with yourself and the world around you than when sitting in a boat in calm waters, with a view of rolling hills…
For the romantic in you, head off to Tiffin Top for glorious and humbling sunrise. The world will never seem the same to you here-on. The awe-inspiring Himalayan Range, standing majestic at a distance is a sight that will be emblazoned in your mind forever. Plus, it is just about 4 km from the heart of Nainital and offers a great trekking trail.
Since you are in Nainital, we assume heights are not a problem for you! So don't forget to enjoy a cable car ride, which starts from Mallital to Snow View (a popular tourist attraction), offering an exhilarating view of the snow-clad Himalayan range. A visit to Naina Devi temple is a must too.
Believed to be one of the 64 Shaktipeeths in India, it is dedicated to Goddess Naini Devi, who is said to govern Naini Lake. A little divinity and godly blessings never hurt anyone…
If architectural wonders and museums are more your things, then trot over to Raj Bhawan, the Nainital Governor's House. With 113 rooms, the mansion also has an 18-hole golf course on the premises. Constructed in 1924, it now allows visitors only in the lawns… But still, definitely worth a visit. Another place which is a sight for sore eyes is St. John's Church, with its inspiring Gothic-style architecture.
Built-in 1844, it is tucked away in Mallital and gives you the much-needed peace and solitude your soul is craving. If you still have some energy left (we sure hope you do), head to the Tibetan Market. From ethnic dresses and exquisitely designed shawls to junk jewellery and must-grab woollens, your money will be more than well-spent here.
So whether you are a honeymooning couple or a family or just a solo traveller, Nainital is guaranteed to rejuvenate your spirit and make you appreciate the real things that matter: Nature, peace and oneness with one's self. The hills are calling…
Ladakh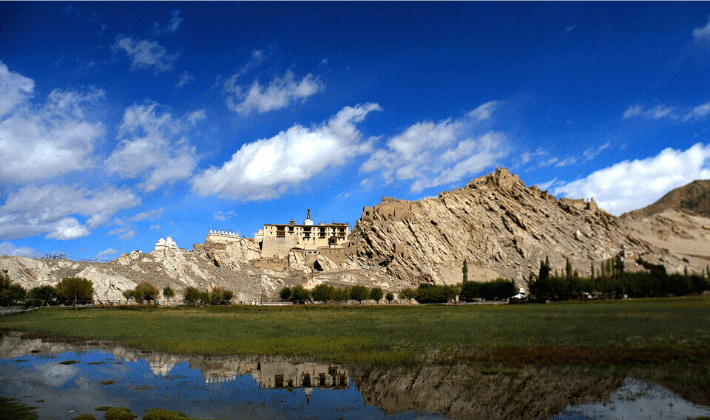 A unique blend of Indian, Tibetan and Buddhist cultures, Ladakh is a land like no other. With natural beauty at its zenith, and flanked by the Himalayas and the Karakoram range, Leh-Ladakh offers a life-changing experience.
So let's get the most obvious over and done with first. Yes, one of the most popular tourist attractions here is the Pangong Tso Lake –immortalised in the film 3 Idiots – where Kareena Kapoor confessed her love to Aamir Khan.
Situated in eastern Ladakh, it is a fantastic site for camping and also covers the international boundary from India to Bhutan. So once you are done with taking selfies here, you can calmly enjoy the scenic beauty.
Want an adrenaline rush? The Khardung-La Pass is your go-to place. The highest motorable road in the world, it is a gateway that leads to the Nubra and Shyok Valleys. However, it would be prudent to take health precautions due to the extreme height.
Nubra is also where you should be prepared for a shock. Why? Because it is a desert nestled among snow-capped mountains! Oh yes, the sand dunes here draw a flock of tourists, not to mention the famous two-humped camels… Life at its most surreal, you know.
Ladakh is also the land of monks and monasteries. The Spituk Gompa is renowned for its intricately carved location at the top of a hill. The monastery may not offer much of a view but is still a must-see here. Of course, no vacation to Leh-Ladakh is complete without a trip to Zanskar Valley.
Known as one of the most isolated places in the Himalayan range, it boasts of the steep landscape covered with snow, reflecting an unending sky. Plus, it is one of the best rafting destinations in India… Try not to tumble into the Zanskar river, because winter or summer, the chilled river will is certain to give you a freezing shock of your life!
Another shocker is the Magnetic Hill. Though the science behind it is yet unknown, it is said that if you leave your vehicle at the base of the hill without applying the brakes, it will start moving uphill on its own… Superstition, magic or just an unexplained phenomenon? We don't know. However, surrounded by such beauty, we don't think we really care either!
Ladakh boasts of numerous monasteries, valleys and rivers. There really is something for everyone here. So quit thinking about the distance etc, just book yourself a trip to this magical land and see how your life transforms!
Conclusion
Monsoon is one such season where you can spend your time with nature and enjoy the tiny droplets of rain. Not so hot not so cold this is the perfect weather to plan for a vacation. Don't wait; book your favourite destination to spend your upcoming weekend break or holidays. If you still want to ask something from the travel experts, help is just a call away. Call: +91-9990124333