The famous and bewitching water bodies offer a wide range of river rafting in India. India is best known for the breathtaking scenes it has to offer, right from the mountains in the east, plains in the north, desert in the center, to seashores and beaches.
Several locations offer you great spots for white water or best places for river rafting in India. Up North, there are places where you can engage in rafting like Bhagirathi River in Uttarakhand and Rishikesh in Uttarakhand. Get an opportunity to connect with raw nature in its ultimate force.
Top 10 Fascinating Places For River Rafting In India
Talking about river rafting in India, we are going to discuss well researched and handpicked places which not only gives you the option to enjoy river rafting but also are great places for trekking, photography.
Get yourself educated on the unique nature, flora, and fauna. All the places which will be discussed in this article offer you a breathtaking view of mountains on both sides as the rivers flow through the valley.
Rafting is an exciting experience in itself, an engaging and fascinating activity. This article will give you a glimpse of the best places for river rafting in India.
We present to you all the places and how you can make the most of your river rafting adventure.
Munsiyari, Uttarakhand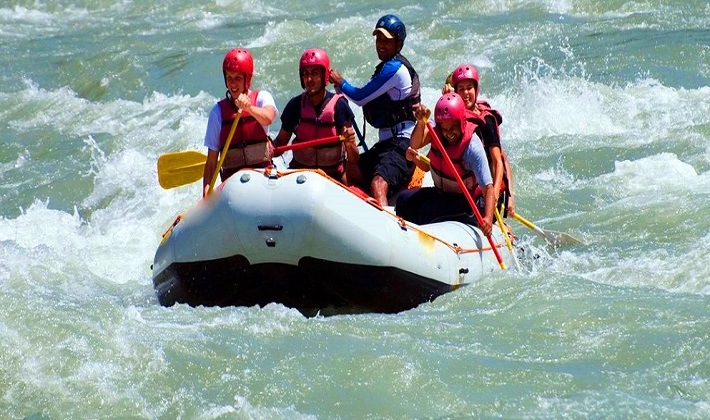 Munsiyari is ideally located for the experience of high-altitude trekking to various glaciers and it's the base camp for Nanda Devi. There are long treks in the surrounding countryside, following the treks are past birch, walnut, juniper and rhododendron trees.
There is a number of burials, the rolling lush green high-altitude meadows. Khaliya Top and Betuli Dhar are also developed for skiing and winter sports activities in Munsiyari.
River Rafting in Gori Ganga River, Skiing in Khalia Top, Trekking, Bird Watching, Camping, and other adventure and leisure activities.
Ranichauri, Uttarakhand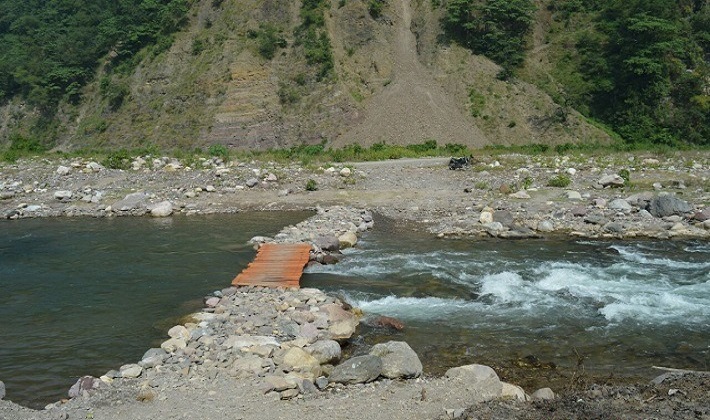 The location is about 16 km from the Tehri Dam site, which is on the Bhagirathi River. The place is over 6000 m. above sea level and has a breathtaking view of the snow-covered Himalayas.
For the less active, it is a place for leisure and relaxation in the hills, overlooking the vast expanse of Himalayas. This place is still very less explored and offers a great range of activities to choose from for visitors, especially water sports lovers.
White water rafting offers some real spellbinding views of the mountains and valleys.
Orchha, Madhya Pradesh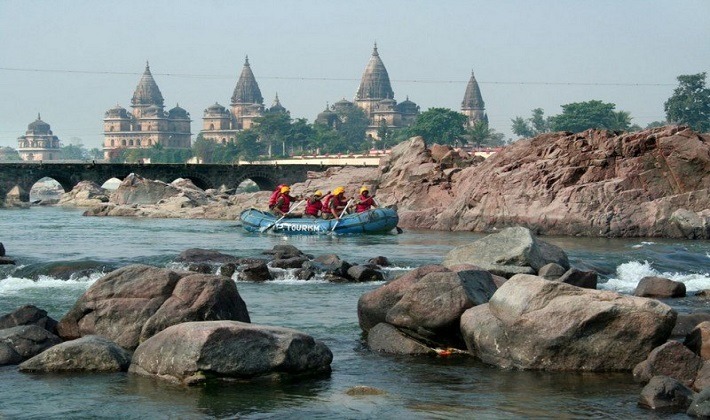 Orchha is an ancient medieval town founded in the 16th century. This stretch of land along the River Betwa in the Bundelkhand region of Madhya Pradesh India was an ideal site for the king's capital.
Marked by the unexampled temples and striking forts, the capital of Bundela Kingdom has beautifully preserved. Those who are not fascinated by history, the medieval city does not disappoint them either.
Encompassed by thick Dhak forest where every dawn is embraced by the chirping of birds, where the shimmering holy river and the chance of river rafting witnessing the mesmerizing heritage sites, the destination appears like a sweet reverie.
Pancheshwar, Uttarakhand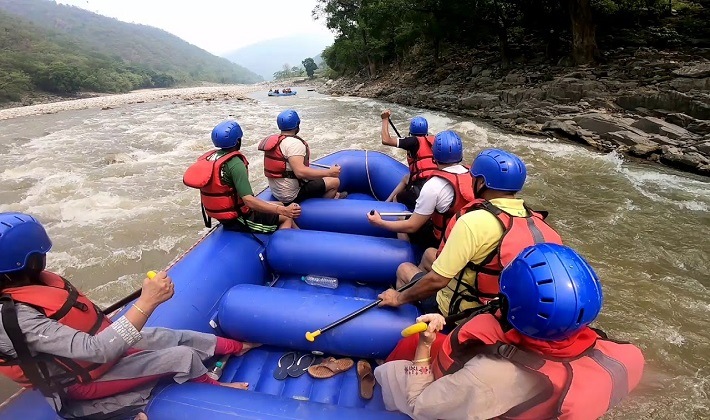 Pancheshwar lies at the confluence of the Mahakali and Saryu, rivers that demarcate the Indo – Nepal border. It has historically been renowned as the home of Jim Corbett's Champawat tiger, the sacred Chaumu temple and the golden Mahseer.
It is perhaps the only permanent facility of its kind that is open all year, with the exception of the volatile monsoon months. River rafting is one such sports activity to enjoy here.
Ladakh, Jammu & Kashmir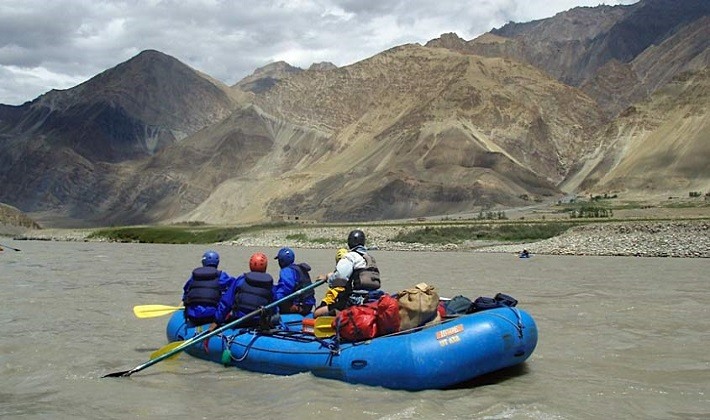 The Indus River, locally known as the Singhe Khababs (out of Lion's mouth), flows across the northwest to the southeast, passing through Ladakh and flows into Pakistan where it joins the Shayok and Suru to become a prominent historical Lake.
The Indus originates near the Kailash Mountain and the Mansarovar Lake in Western Tibet. Water levels remain high from June to late August, which is the best season for more fascinating rafting expeditions in Ladakh.
Rafting on Indus provides a spectacular view of Ladakh and Zaskar ranges housed with Buddhist monasteries on a high cliff, giving you a great thrill of this exciting sport.
Print, Himachal Pradesh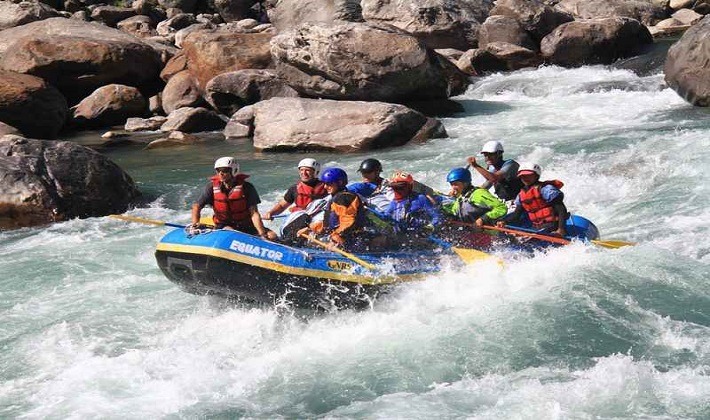 In Prini near the Kullu Valley, white water rafting or River Rafting can be enjoyed in the river Beas throughout the year except during the period from 15-July to 15-September.
However, rafting is also not done during rainy and winter seasons. Trips generally start at Pirdi and continue 14 km down to Jhiri.
White Water river-rafting facilities are offered by private operators at Pirni near Kullu where a water sports center has been set up to provide a one-stop water sports adventure experience for the tourist.
Rafting is done on stretches of the River Beas providing an exhilarating experience for enthusiasts.
Narkanda, Himachal Pradesh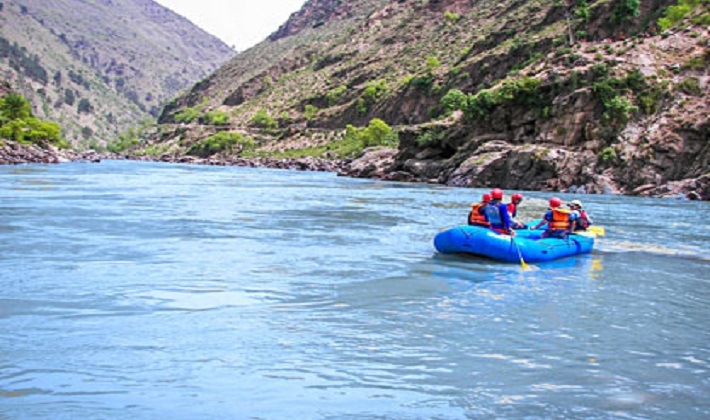 The swift-flowing rivers of Himachal Pradesh provide the ideal condition for the river rafting adventure sport. The Sutlej river near Narkanda offers exciting river rafting opportunities.
River rafting is done on an inflatable rubber dinghy. The sport cannot be conducted during the winter and the monsoons.
The famous white-water rafting place near Narkanda is water rafting from Chabba to Tattapani a stretch of 12 km and two hours river down challenging the rapids of aggressive Sutlej river.
Parvati Valley, Himachal Pradesh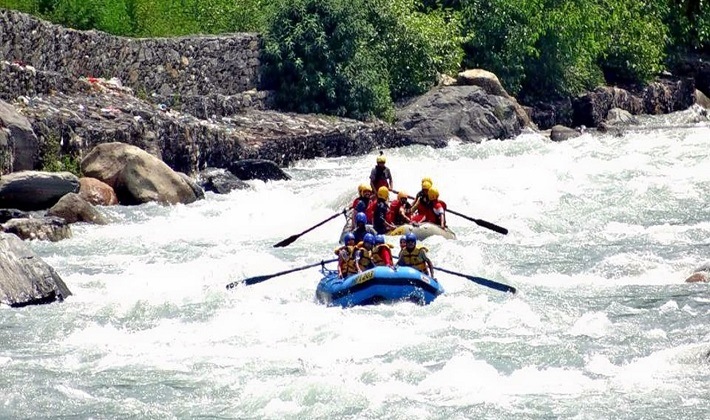 The valley has some real good treks, majestic flower valleys, thick flora and fauna, crystal clear waterfalls, rivers in virtuous serine Parvati valley "Tapo Bhoomi" of Shiv Shampoo.
The village has thick deodar (pine) forest as the crown, river Parvati wetting its feet, mountains made of black hard-rock. Snow-covered peaks making a perfect backdrop for this "Shiv Nagari".
A village is a perfect place for nature lovers. The sights of daybreak, sunrise, and crystal-clear skies full of numerous stars can remain etched in one's memory forever.
While the Parvati River in Kasol is ideal for white water rafting, the valley is ideal for adventure sports like rock climbing and trekking.
Shogi, Himachal Pradesh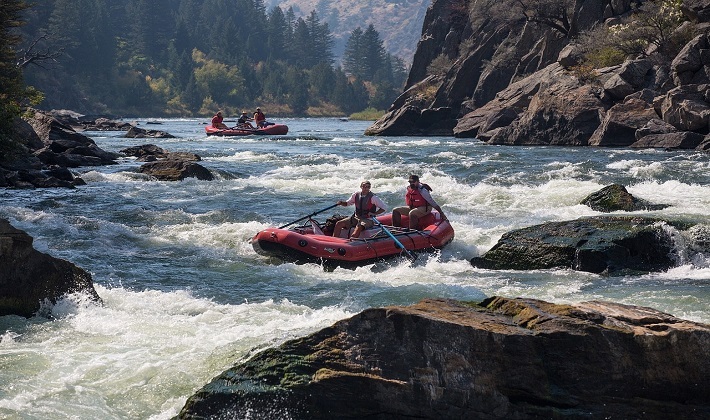 Shoghi is an excellent destination offering myriad opportunities for river rafting, poetry, photography, painting. It also offers to sketch of misty mornings, dew-kissed forests, verdant valleys.
Get lost in the undulating hills, and mesmerizing sunset or moonlit nights and the star-spangled sky! River Sutlej, near Tattapani, attracts a lot of river rafting lovers.
Raison, Himachal Pradesh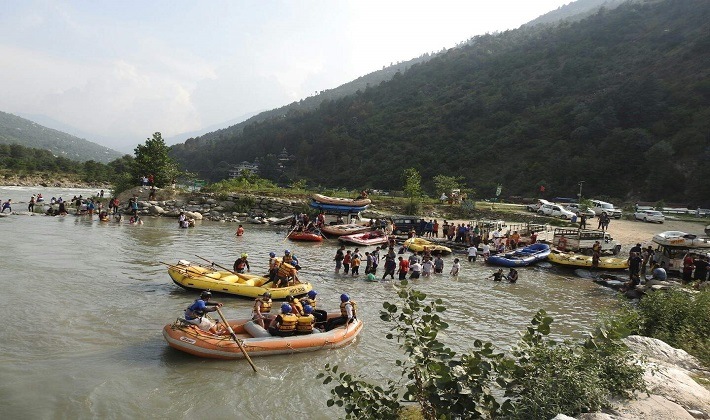 Raison is the commencing point for white river rafting trips on River Beas. This small cluster of villages is situated at a height of 1435 m.
Tourists from all over the world consider Raison as one of the best spots to experience the ultimate adventure and thrill of outdoor sports, like river rafting. River Beas near Raison experiences turbulent up and down streams of water, which makes it absolutely fit for the adventurous activity of rafting.
The rafts available in Raison can hold from five to eight passengers depending on their body weight. Raison is a place where tourists can enjoy rafting on the natural rapids of water.
More the level of water in the river Beas more will be the rapids to enjoy rafting.
Over To You
For the adventure seekers, for water sports enthusiasts, for fun lovers, river rafting is one such thing to do. An all in one experience for all kinds of fun lovers, there are a lot of best places for river rafting in India.
For an out-of-the-box experience, book your favorite destination to spend a relaxing and refreshing vacation along with your family in one of our hand-picked destinations and resorts and enjoy the water sport you love.
TripOffbeat is your Trusted Travel Partner for Weekend Breaks, Vacations, Summer Breaks, Activity Sports, Water Sports, offering you an Easy Selection of Handpicked & Verified Offbeat Stay options, backed by Personalized Service to give you 100% Delight every time, any time.
Don't wait, if you still want to ask something from the experts' help is just a call away. Call: +91-9990124333