If you are searching for places in Himachal Pradesh to visit, planning a short trip to Himachal Pradesh, or looking for an offbeat vacation from the hub of the city to blend with Himachali culture, then you must go through the article below.
Himachal Pradesh is known by the name of the land of snow. The land of abundant natural beauty, adventure, and serenity. Himachal Pradesh has no competition when you want somewhere really natural and of complete wilderness to spend your vacation. And there could not be a more perfect place than Himachal Pradesh.
Discover Places in Himachal Pradesh to Visit
Give your search for places in Himachal Pradesh to visit a boost and plan your holidays now to discover the charms Himachal has to offer.
Himachal Pradesh, if described in a few words, is one such destination where your vacation finds the supernal definition of nature at its best. Here in this blog, let's explore some of the offbeat places of Himachal Pradesh, which can help you plan your trip to Himachal Pradesh.
Palampur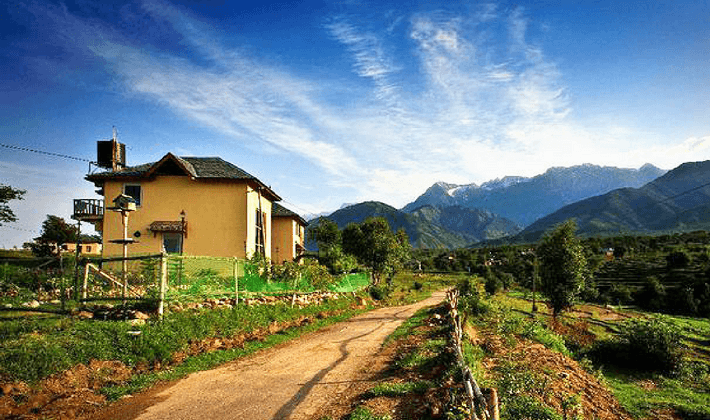 The hill station Palampur is the tea capital of North India. It is not only known for its numerous tea gardens and paddy fields but also its colonial architecture and temples. You can enjoy the scenic beauty of the Dhauladhar range and the slopes of the Kangra valley from here.
A lot of adventure sports, like hang-gliding, trekking, etc., attract the families and adventure-loving group of people. Palampur is the place you should explore if you want to refresh your senses and your soul.
Rajgarh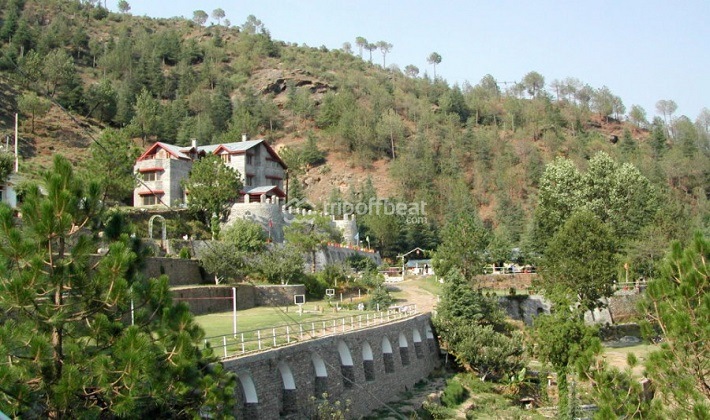 Rajgarh popularly known as the Peach Valley is a perfect hill station surrounded by deodar and fruit orchards. It is a tiny piece of paradise, silently tucked away from the maddening crowds. Surrounded by green valleys, it's a place for perfect holidays destination.
Radha Krishna Temple and Shrigul Temple are the famous tourist attractions in Rajgarh. Other significant sight-seeing spots in the area are Jatoli Temple, Badu Sahib Gurudwara, and Kanda Waterfall. Jatoli Temple is the highest and the oldest Shiva Temple in Asia, which you should keep on your itinerary list.
Shogi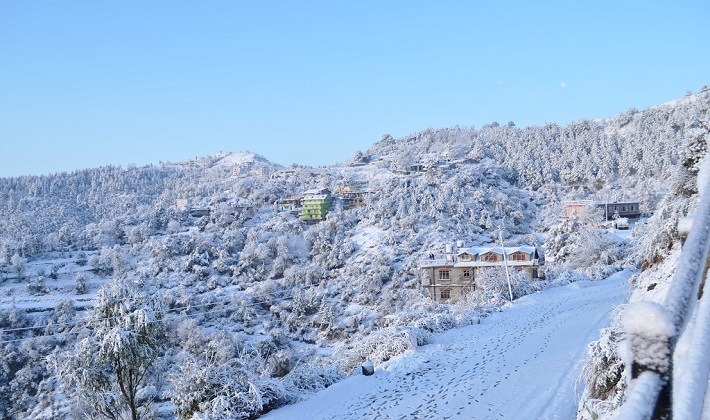 Shogi is set amid lush green rhododendron and oak forests. It is an ideal tourist destination far away from the city's chaos. Compared to Shimla, Shoghi is calmer, no crowd, not yet fully commercialized, and has clean surroundings. The hill station characterized by hills, valleys, and ravines. Shoghi offers marvelous walks through fairy tale forests of deodar. One such path leads to the famous Tara Devi Temple; it also offers a majestic view of the surrounding snow-clad Himalayan mountains on one side and view of Shimla.
There are marvelous opportunities for trekking and camping in Shoghi. The friendly weather and calm atmosphere make it an ideal camping place. Bird watching is one activity one can do here while camping. You can also visit this small and beautiful village called Anji, where Hanuman temple stands right on the edge of the village. Jakhoo Hill, Viceregal Lodge, Kufri, Mashru Peak, Himalayan Nature Park, and Indira Tourist Park are other places you can visit.
Narkanda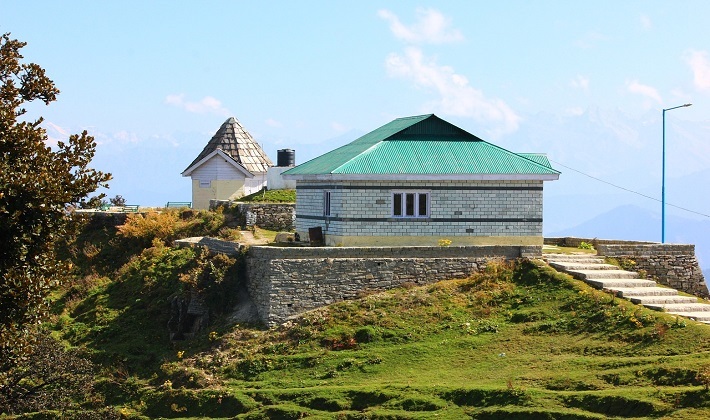 At 9000 ft among the dense woodlands of mixed tropical forests, Narkanda is a much revered and sought-after travel trivia. Surrounded by the villages, apple orchards, and dense forest cover, Narkanda is endowed with pristine beauty. Clean crisp air rejuvenates you, calm surroundings tranquilizes the soul.
It affords an aerial view of the mighty Himalayas on the east and picturesque views of far-flung low-lying villages adding beauty to the place. It's the recreational hub for travelers seeking solace in the gentle lap of nature and aiming for an exciting and adventurous holiday. The outdoor activities menu has a lot to offer for the most cupid traveler.
Bir Billing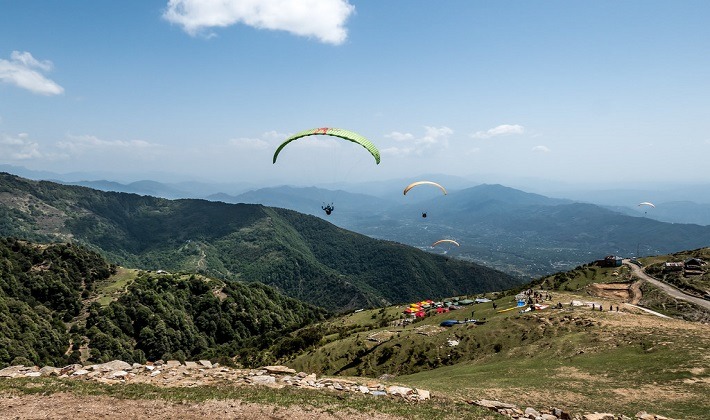 Bir is on the edge of a forest that has been given a sanctuary status. Bir has found a place in the international paragliding circuit. The strong thermals and relatively consistent weather conditions have attracted paragliding enthusiasts from all over the country. At an elevation of 7,600 ft (2300 meters), the take off-site is a small meadow at Billing 14 km from Bir.
For the truly brave at heart, let us fast track you on an intensive 2-week paragliding course. And for those who wish to enjoy the Kangra valley like a bird without the hassle of training, we will arrange a tandem flight for you with an experienced pilot.  Bir Billing together is an ideal destination for tourists of every taste.
Taragarh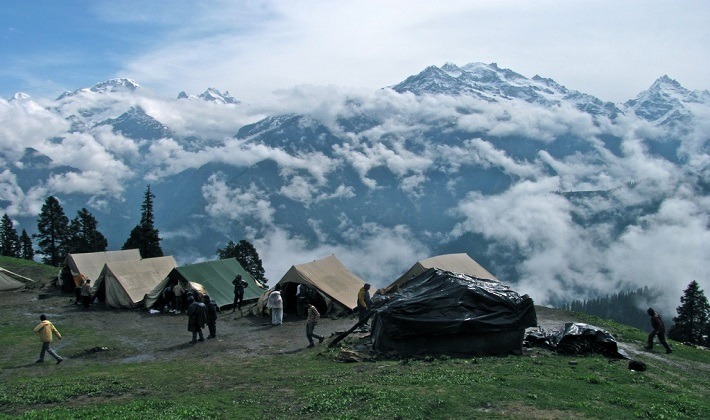 Located at an altitude of 3,400 feet above sea level, Taragarh is at the foot of the Dhauladhar Mountains, offering a splendid view of the surroundings with snow-capped peaks. It offers modern amenities with a range of services that match the best in the hospitality industry. Its location at one of India's unspoiled hill stations makes this royal destination a must-visit. Plan a trip with either family or friends, make the most of your holidays.
Khajjiar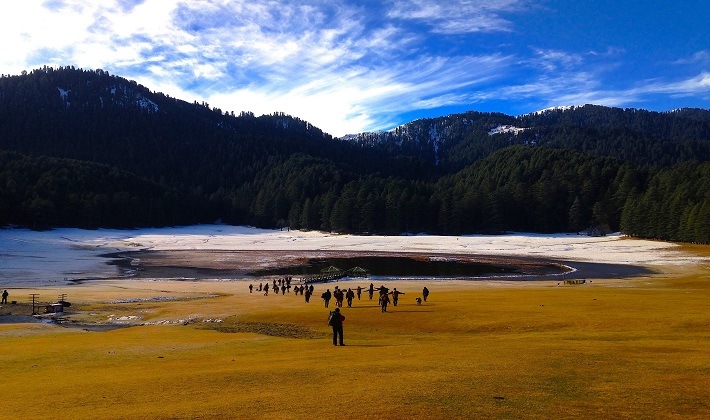 Khajjiar is also known as Mini Switzerland of Himachal Pradesh or Mini Switzerland of India. Khajjiar is one of the most beautiful places in Himachal Pradesh. The lush green ground, the pleasant atmosphere, the natural spellbinding beauty, everything is just perfect at Khajjiar. You can also try horse riding at Khajjiar with your loved ones or alone.
If you are an adventure lover, you can try Zorbing at Khajjiar. In this adventure activity, the person is enclosed in this zorbing ball and another person pushes the ball. You roll over the ground wherever the ball goes. If you love being in the sky, you can try Paragliding at Khajjiar. You can get different packages for Paragliding depending upon the height you want to do. If you love taking pictures of the unspoiled nature, Khajjiar is one of the best places in India for taking nature's perfect pictures.
Over to You
One of the best states to visit in India is Himachal Pradesh. Himachal Pradesh captivates some really amazing destinations worth giving spending night in. From snow-capped mountains to dense virgin forests, from beautiful valleys to terraced orchards, Himachal offers the best of everything.
Either you want a calm place to relax and rejuvenate or an adventurous camping site, we have everything according to your mood. TripOffbeat is your Trusted Travel Partner for Weekend Breaks, Vacations, offering you an Easy Selection of Handpicked & Verified Offbeat Stay options, backed by Personalized Service to give you 100% Delight every time, any time.
Don't wait, book your favorite destination in Himachal Pradesh to spend a relaxing and refreshing vacation along with your family in one of our hand-picked destinations and resorts. If you still want to ask something from the experts' help is just a call away. Call: +91-9990124333