What are the best places in Ladakh for a perfect vacation? You may have once planned a vacation in Ladakh, amid tranquil environment, and tough hilly terrains but definitely, have come across some hurdles to select the best places to visit in Ladakh.
Ladakh is one of the regions untouched by modernity, and where you'll see life come to a standstill. It is one of the popular tourist destinations in North India. So, let's give you a brief description of the charms and flavors of nature, landscapes, adventure, and culture of Ladakh.
Best Places In Ladakh For Every Wanderer
If you are looking for the best places in Ladakh for your next holiday in northern India, then you don't need to worry. Here we have got all you need to the lookout about Ladakh's beauty and hidden treasures.
It is an ideal place to witness an authentic relationship with nature. Ladakh is a whole in itself; shades of Tibet, Sikkim, Kashmir, Kumaon, Bhutan, and even Rajasthan blend to form this stunningly unique Himalayan Desertscape.
From breathtaking adventure places to culture and heritage points, or village lifestyle, Ladakh is one-stop for every wanderer.
Here are some handpicked destination to visit and a couple to ease your stay in Ladakh:
Leh Palace At Leh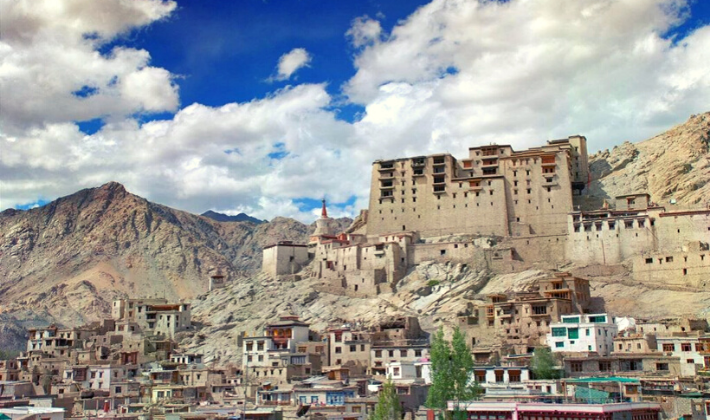 The most visited town in Ladakh is Leh, it is known for its adventure tours and campsites. Not only known as an adventuresome site, but Leh also has an old building built in the mid-16th century, the Leh palace was the world's highest building at that time.
The Leh Palace is a royal palace overlooking the town of Leh. Most of the nine stories high palace is in deteriorated condition.  You can make your way around its dark corridors and hidden halls, gaze upon the murals showing the Buddha's life and find peace in the palace's large prayer room.
The palace has a Palace Museum which holds the history of Leh and its royal family. The museum is rich in a collection of jewelry, ornaments, ceremonial dresses, and crowns. Leh is a must-visit destination for explorers traveling to Ladakh.
Shanti Stupa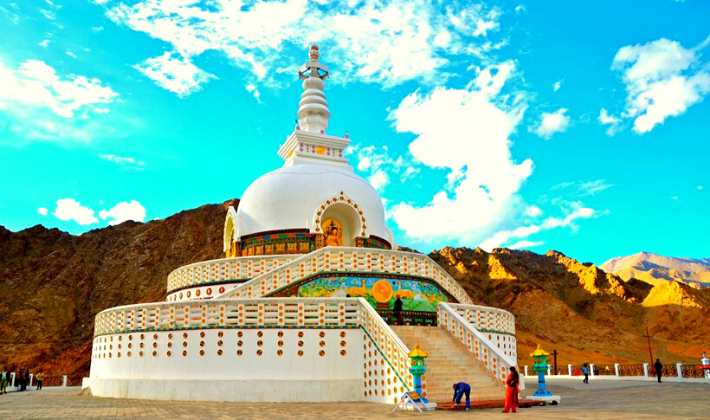 Shanti Stupa is one of the top-visited tourist places in Ladakh. It is a Buddhist white-domed stupa built by a Japanese Buddhist. The white domes structure is perched on a hilltop, was built by Japanese monks to promote world peace.
The place has a great religious significance, but it is also popular due to its breathtaking panoramic views of surrounding landscapes of Ladakh.
Stok Palace And Museum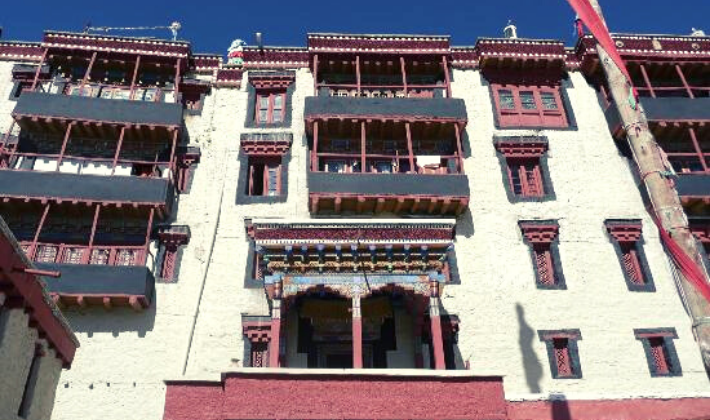 Stok Palace was originally the home to the exiled royal family of Ladakh. It is now transformed into a museum for tourists to witness the history of Ladakh and the residing royal family. The museum is preserving cultural heritage, precious artifacts, and relics.
The palace museum is popular among historians and anthropologists. The museum exhibits the coins, regal costumes, swords, shields, bows, arrows, quivers, and guns. It's worth visiting when you are in Ladakh.
Spituk Monastery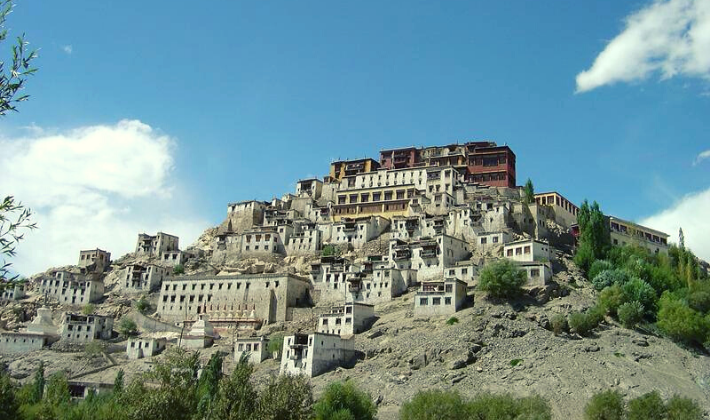 Spituk Monastery also known as the Spituk Gompa, is a late 14th-century monastery perched on a hillock near Spituk village. The monastery houses a golden-roofed shrine, namely Shodong Lakhang, as well as ancient masks and arms. Spituk Gompa contains a total number of 100 monks and a statue of Kali, which is unveiled during the annual Spituk festival.
Not only Spituk, but Ladakh is home to a lot of monasteries such as Stok, Alchi, Hemis, Sankoo, Thiksey, Shey, Turtuk, and many more.
Pangong Tso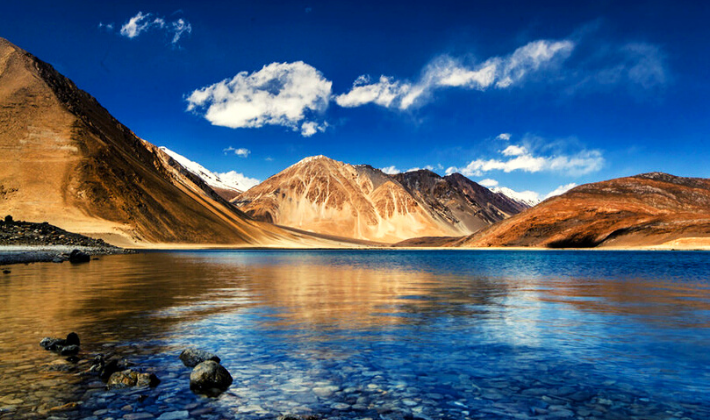 At an altitude of 4250 meters, Pangong Tso is the highest lake in the world. The high grassland lake, Pangong Lake is an endorheic lake in the Himalayas. With its crystal-clear water, the surrounding mountains, and the tranquil surroundings, it's not hard to imagine why Pangong Tso means the enchanted lake in Tibetan.
Despite having saline water, the lake freezes completely during the winter season.
Where to Stay in Ladakh?
Ladakh doesn't have five-star resorts, but there are few very good options to stay with all the luxuries you would find in five-star resorts. Top best three are as follows:
Shey Bhumi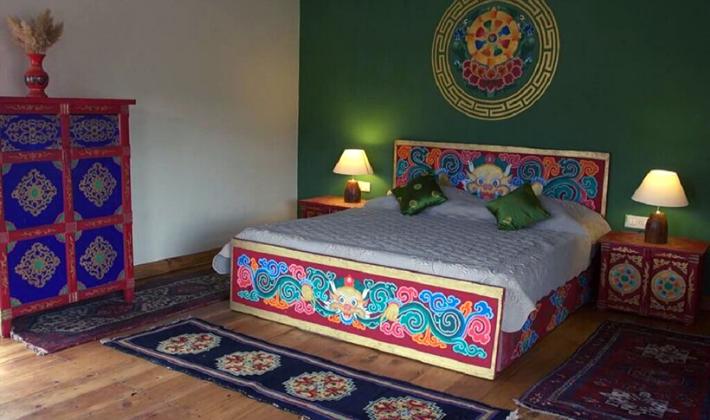 Traditional willow and mud-brick cottages, decorated with exquisite Tibetan hand-painted furniture, and adorned with the finest linen and drapes, with private verandas, and luxurious ensuite bathrooms are designed to provide every comfort while taking you back decades in time – where opulence blended with heritage, the Ladakhi way.
The ideal nest to base yourself in as you let us show you the many jewels of this wondrous land, in our carefully designed Ladakh itineraries. Its lakes, rivers, moonscapes, monasteries, peaks, deserts and above all – its people and culture. Ladakh is magical.
Camp Thiksey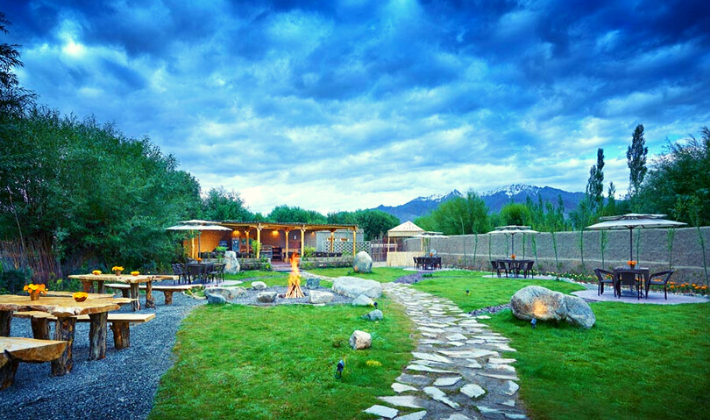 The aesthetic feel of the Campsite has been inspired by the explorers of the British Raj, who came to these distant frontier regions to undertake covert operations in mapping these uncharted regions and made Ladakh their "listening posts".
In many respect, the concept is to relive, through our special itineraries, the glories of the many sahibs (and mem-sahibs ) who came to these frontier places during the era of the Great Game (pre-Independence), in the guises of "hunting leaves" This is evident from the many period furniture that lies within your tent, which are in fact, replicas of the past like the Kipling Stool, Roorkee Chair, Jorhat chair, Wheeler Cot, etc.
Camp Diskit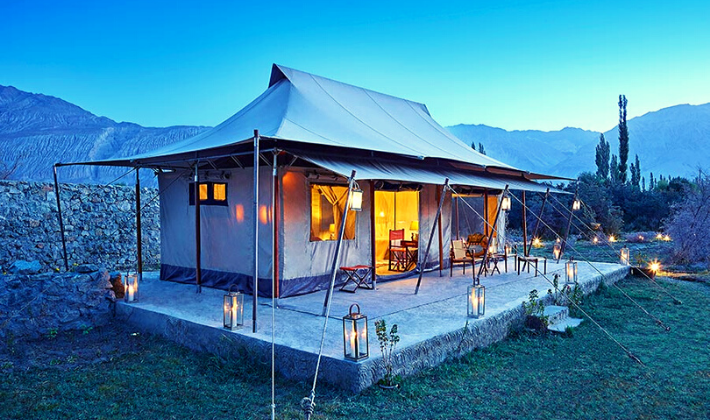 Continuing the expedition through dramatic landscapes of enormous glaciated peaks and arid thoroughfares, reach the tranquil yet thriving village of Diskit. Untouched by the mainstream mayhem, the village has beautifully preserved its sanctity despite being the commercial hub of Nubra.
Chamba Camp, Diskit presents Hunder village, Turtuk, and Sumur – the alluring barren vistas saturated with hues of white, green, and brown. Witness the amalgamation of ancient cultures, stories of Buddhist monks and monasteries eternal through the sands of Time, spectacular terrains of molten fold mountains strewn with cobalt blue lakes, all at the Chamba Camp, Diskit – a step away from Paradise.
Conclusion
Planning a trip in the northern part of India with friends or family, then Ladakh is worth giving your time. Discover the treasures of Ladakh, from bewildering landscapes to adventurous camps. Looking for the best places to visit, we also suggest some of the best places in Ladakh to make your stay easy and comfortable.
TripOffbeat is your Trusted Travel Partner for weekend breaks, and vacations, offering you an easy selection of handpicked and verified offbeat stay options, backed by personalized service to give you 100% delight every time, any time.
Don't wait, book your favorite destination in Jammu Kashmir and especially Ladakh to spend a relaxing and refreshing vacation along with your family in one of our hand-picked destinations and resorts. If you still want to ask something from the experts' help is just a call away. Call: +91-9990124333