Don't you think there is nothing better to visit the Himalayas this vacation than spending time at home and do nothing? We have found out places to visit in Himalayas for you. When boredom strikes it is best to visit the Himalayas and lose yourself in the splendor of the soaring Himalayas.
Be a traveler at heart and spark that wanderlust in you, and get mesmerized by the charm and allure of the chilly Hills of India.
Imagine enjoying tea witnessing the best sunrises in India overlooking splendid views of the majestic valley or getting into the wild and trekking for the best views of Himalayas.
Himalayan ranges captivate the best of Indian beauty and behold the ravishing scenic views India has to offer.
Discover The Hidden Places To Visit In Himalayas
The home of the highest peaks on the planet, beholding the charismatic views of the snow-clad mountains, Himalayas are one of the topmost visited tourists' places in India.
Not only views of snow-capped mountains, but also dense forests, and virgin hills leave tourists spellbound. Here are some handpicked destinations for you to savor the best of Himalayas.
Auli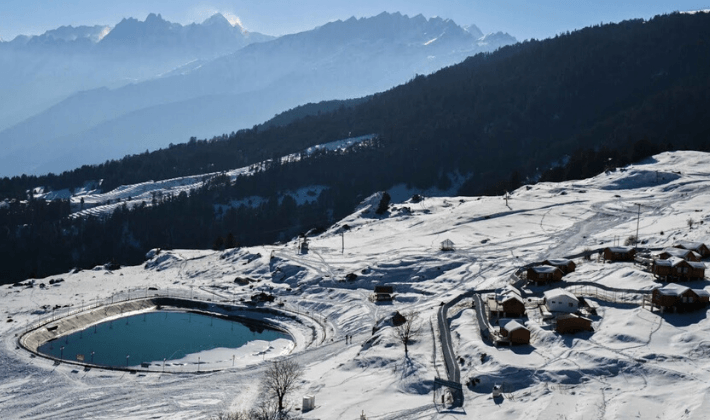 Located in the cradle of snow-capped mountains in the northern state of Uttarakhand lies Auli. Auli is popularly known as skiers' paradise. It is the most favorable and most visited destination to embrace beauty. It is an ideal place to witness the best of sunsets in India. Auli is famous for its artificial lake, overlooking the breathtaking serene views and calm atmosphere along with a skiing track.
There are a lot of other popular attractions near Auli which make the trip complete and satisfying. Quench your thirst for adventure with Chandrashila Trek and Nag Tibba Trek, or discover the splendid views of valley and lakes from Nanda Devi Peak and Trishul Peak, or you can relax your soul at the lakeside, Chenab, and Chattrakund lakes, the crystal-clear water offers soothing views of landscapes.
Landour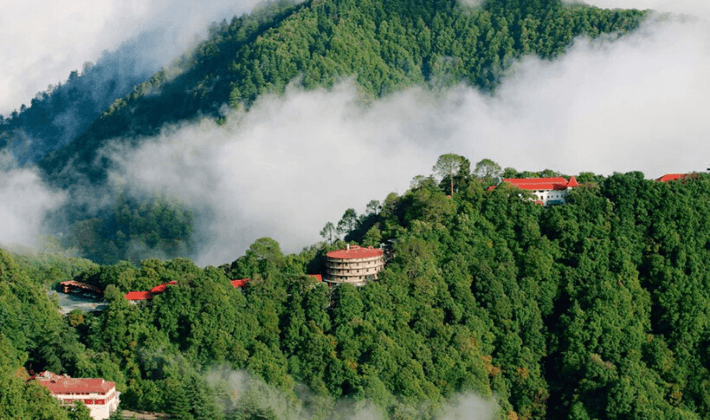 Landour is a place rich with history, culture, and literature – national and international, explore what all it has to offer. The place offers a feast for eyes, a perfect destination for historians and anthropologists.
For adventure seekers, Nag Tibba offers mountaineering, camping and adventure tours, and for historian's robber's cave is one fine spot. Tapkeshwar Temple, St. Paul (the historical colonial church, and Ivy Cottage (Ruskin Bond's residence) are some of the major attractions of Landour.
Chaukori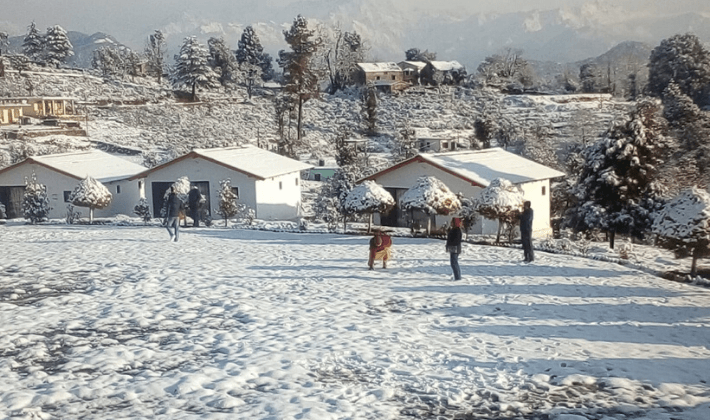 The best destination for a weekend getaway is a place known for its Purity, and one such place among the Himalayas in Chaukori. Chaukori is surrounded by snow-capped Himalayan peaks, with unbound views of Nanda Devi, peaks and virgin forests. It is one of the few places in Kumaon region with tea gardens.
The majestic land of Chaukori is bestowed with natural abundance, fruit orchards, pines, oak, and Rhododendrons. You can witness some fabulous sunrises and sunsets in this peaceful hamlet of Uttarakhand.
Ranikhet
Ranikhet is the most pleasant spot for vacations in the Kumaon region of Uttarakhand. One of the best places to savor the fruits of Himalayas. Ranikhet is a hill station in Uttarakhand known for its majestic views of Himalayas. The place gets very cold in winter but remains pleasant rest round the year.
The region gets rainfall in winter, especially in December and January. It offers terraced orchards proposing views of peaks including Nanda Devi. Other popular attractions near Ranikhet includes Ashiyana Park, Rani Jheel, Binsar Mahadev, Katarmal, Tarikhet, and Syalikhet.
Conclusion
Either you want a peaceful and calming spot or an adventurous one, you don't need to worry. We have done that work for you, TripOffbeat will be the helping hand you need.
TripOffbeat is your Trusted Travel Partner for on-demand and special holiday breaks, offering you an Easy Selection of Handpicked & Verified Offbeat Stay options, backed by Personalized Service to give you 100% Delight every time, any time.
Don't wait; book your favorite destination to spend your upcoming weekend break. If you still want to ask something from the travel experts, help is just a call away. Call: +91-9990124333