Wondering where to go this Valentine's ? Well, Tripoffbeat has designed a perfect break for couples. Spend some unforgettable time with your loved one whilst enjoying a romantic break on the high hills of Uttarakhand or in a beautiful places of North India.
Surprise your beloved with a romantic escape this time. Check out our list of 8 Couple Destinations near Delhi and make lifetime memories with your partner.
Lansdowne, Uttarakhand
It is no doubt that Lansdowne is an exotic Valentine's Day destination full of blue Pine trees on hills to just enjoy 'only you' moments in a sensuous way.
Lansdowne is one of the quietest and underrated hill stations of India. It is situated on the Kothdwar – Pauri road at a height of 1,706 m in Uttarakhand. You can travel by either road or train.
Unlike other Hill stations, Lansdowne is well connected with motorable roads but still is remote in its way and is surrounded with thick oak and blue pine forests in the Pauri Garhwal region.
How to reach?
Lansdowne is a small and nearest hill station, about 6-8 hours drive from Delhi.
The nearest railway station is Kotdwar at a distance of 44 km. And the drive from Kotdwara to Lansdowne is quite steep and scenic.
Other route is by road which is much better to reach Lansdowne i.e. from Delhi via Meerut, Bijnore, Najibabad, Kotdwar and on to Lansdowne. It saves about 50 km and the road quality is also good all the way to Kotdwar.
Stay at Lans Castle, S B Mount
Sariska, Rajasthan
Sariska Tiger Reserve is a must-visit for all the wildlife-loving couples out there. The rich flora and fauna and royal predator 'tiger' attract wildlife enthusiasts to visit Sariska. It is the best place for your romantic break, you can go for camel safaris with your partner or can go out for shopping in the surrounding places or can go for long walks with an amazing view.
Sariska mostly gains its popularity due to the Sariska Tiger Reserve. The getaway is a paradise for wildlife photographers and nature lovers. The architectural marvels also win the heart of visitors.
How to reach?
Sariska is about 4-5 hours drive from Delhi.
Alwar is the nearest railway station, located at a distance of 35 km from Sariska. One can easily find auto-rickshaws, taxis and cabs to commute in and around Sariska.
Stay at Alwar Bagh, Trees n Tigers Resort 
Corbett Reserve, Uttarakhand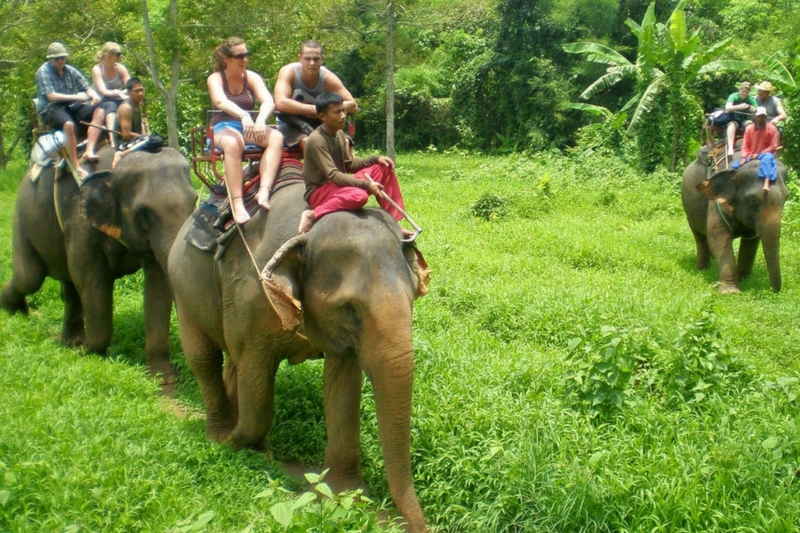 Love isn't just about romance at beautiful destinations, it's a lifelong adventure that involves thrill. So, try something different this time. Explore the mesmerizing jungle in an elephant safari or a jeep, drive through the jungle.
Jim Corbett National Park is the oldest national park located in Nainital district of Uttarakhand.  Corbett has been a haunt for tourists and wildlife lovers for a long time, every season more than 70,000 visitors come to the park. You can also visit the local neighborhoods, or spend the day together relaxing with a couple spa.
How to reach?
Corbett is about 6-8 hours drive from Delhi.
The town of Ramnagar is the headquarters of Corbett Tiger Reserve. One can drive from Delhi via Gajraula, Moradabad, Kashipur to reach Ramnagar. And a direct train to Ramnagar runs from New Delhi.
Stay at Serenity Corbett Resort, Infinity Resorts
Churu, Rajasthan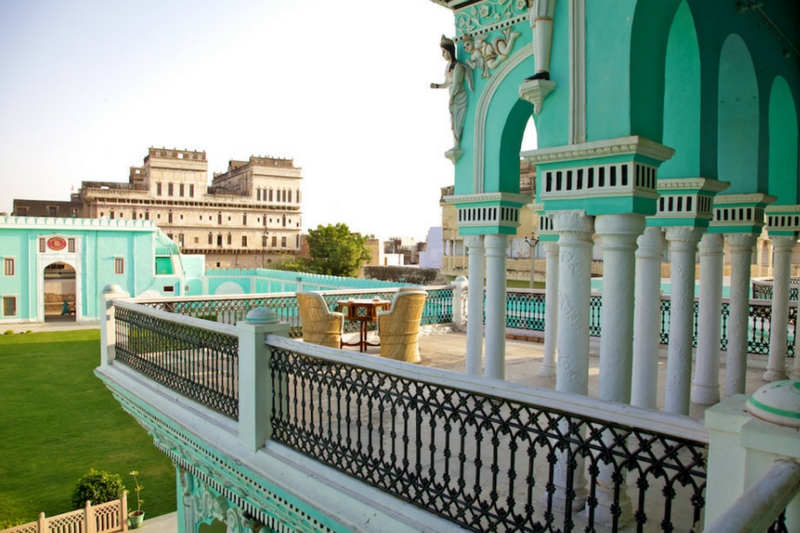 Among many other places to visit in Rajasthan, Churu is the one that must not be skipped. Churu is also known as gateway to the Thar Desert of Rajasthan, the incredible state of India.
For any architecture lover or an avid photographer, it is a perfect place. The havelis of Churu are a visual delight. One can admire whole havelis whole day.
Churu, is a perfect place to view the sunset, the sky changing hues over the horizon on one side and the moon rising over the water on the other, this was a sight to behold. Here you can sit for hours with your cup of Coffee and listen to sound of silence with your partner.
How to reach?
Churu is a 6 hours drive from Delhi and is well connected to other major cities of the country via regular buses. Churu is about 280km from Delhi, enroute to Bikaner.
There are regular trains from other major cities of the country to Churu.
For Churu, you can a get flight to Sanganeer Airport on regular basis.
Stay at Malji ka Kamra
Tehri, Uttarakhand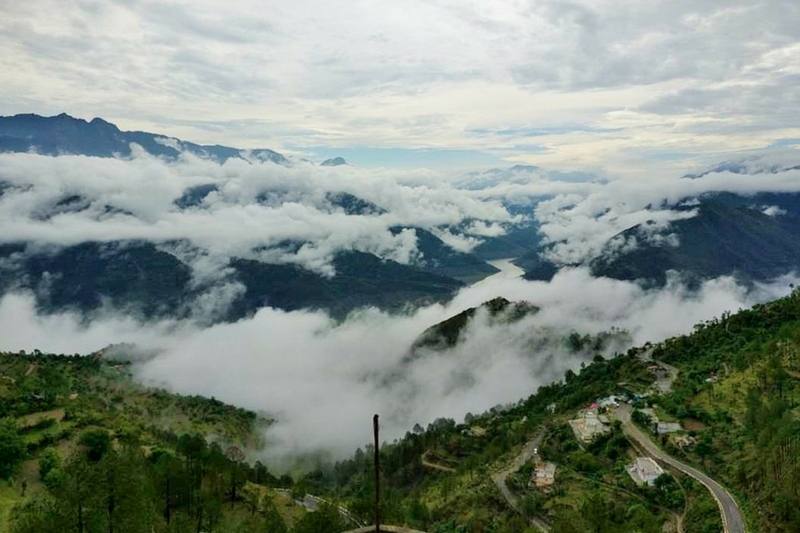 This Love season, share some warmth of your love in the serene environs of Tehri in Uttrakhand. Do not miss the chance to show your partner that how much precious he/ she is. Make some memorable moments of your life with them while holding each other's hand while walking near amidst the lush pine trees.
Tehri is also popular spot for white water rafting. If you are your partner love adventure, this is the ideal place for you two. You can also go for shopping as Tehri is home to numerous street vendors and local markets.
Tehri-Garhwal is mostly preferred by travelers, the go to destination for types of travelers. It is one of the largest districts in the hill state of Uttarakhand.
How to reach?
Tehri is 316.3 km away from Delhi.
By air – Jolly Grant Airport is the nearest Airport to Tehri. It is well connected to Delhi with Daily Flights.
By rail – The nearest railways station to Tehri is Rishikesh, which is well connected by railway networks by all the major cities of India.
By road – There is well connected by motorable roads with major destination of Uttarakhand and North East States of India. Luxury Buses are also available from ISBT Kashmiri Gate.
Stay at Tehri Retreat
Khajuraho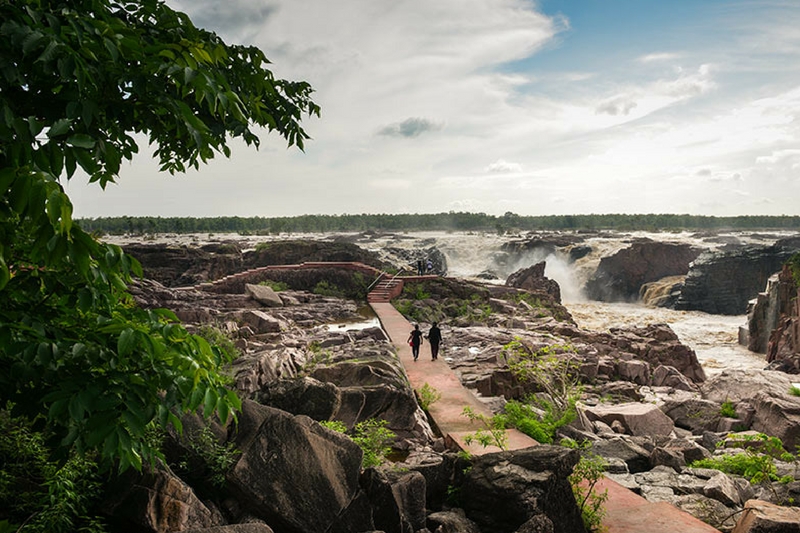 Khajuraho is a place where you can witness a blend of Architecture & History. If you and your beloved love Architect, this is an ideal place to go. It is a place where you two can just just sit and enjoy the marvelous beauty of the grandeur. You don't need to understand architectural details to appreciate the beauty of the temples.
If you also nature lover, the best way to explore Khajuraho is to hire a motorcycle and ride on fully greenery roads from starting to end. Visit the nearby attractions like Raneh Falls (around 20 Kms away) and Pandav Falls which you must visit.
Khajuraho is one of the most popular tourist spots in Madhya Pradesh. It is famous for its ancient temples that depict some of the finest art in the world. It is about 620 kilometers away from New Delhi.
How to reach?
By Air – Khajuraho Civil Aerodrome is located about 2 km from the town centre and is well connected to cities like Delhi, Mumbai, Hyderabad, Varanasi and Indore. Taxis are available from the airport to reach the city centre.
By Rail – You can get to Khajuraho in a train by getting off at the Khajuraho Railway Station, which is around 5 km from the main town centre. The station is well connected to Delhi and Varanasi and (via Satna Railway Station) to Mumbai and Kolkata.
By Road – Khajuraho is connected by road to cities like Jhansi, Orchha, Bandhavgarh and Chattarpur. You can hire a taxi from any of these places to get to the city.
Stay at Syna Heritage, Sarai at Toria
Panchmarhi, Madhya Pradesh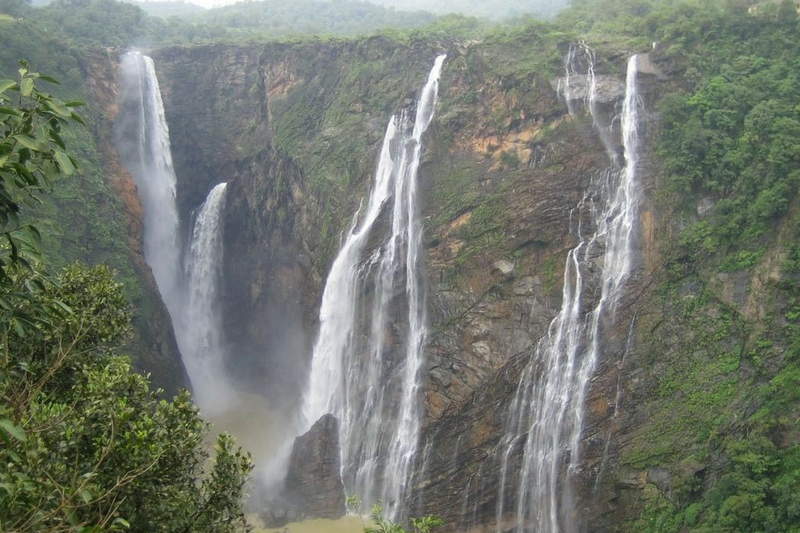 Dotted with fantastic views, Panchmarhi instills a feel of romance in your life and make you fall in love. Stroll around holding hands on the beautiful roads in night and listen your heartbeats amidst the roars of waterfalls.
Panchmarhi is a hill station in Madhya Pradesh, popularly known as 'Satpura ki Rani' (Queen of Satpura). It is situated at 1100 meters, sits beautifully, embellished by nature and history.
Pachmarhi is a popular tourist retreat, is a treasure with ancient caves of the Buddhist era residing in harmony with serene waterfalls. There are plenty of places to spend a romantic outing together.
How to reach?
Air – Bhopal airport is the nearest airport. Major airlines connect Bhopal to various cities in India that include Gwalior, Mumbai and Delhi.
Rail – The nearest rail station is Pipariya (50 kms). It is on the Mumbai-Howrah line and is well connected to major cities like Delhi, Mumbai, Pune, Chennai and Bangalore.
Road – Bus services to Pachmarhi are available from Bhopal, Nagpur, Jabalpur, Chhindwara, Pipariya and other places. There are 7 buses daily to Bhopal which take just 6-7 hours.
Stay at : The Golf View
Mashobra, Himachal Pradesh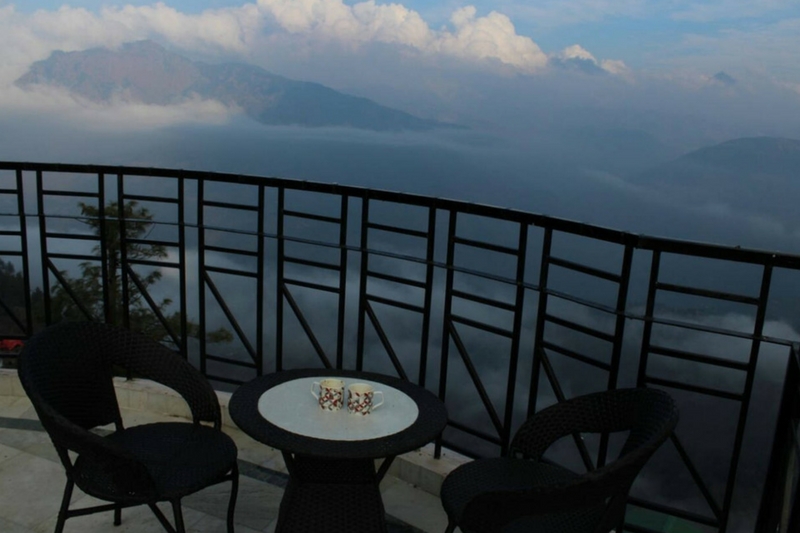 Mashobra, is popular as a romantic destination, located in the Shimla district of Himachal Pradesh. It is about 8 hours drive from Delhi.  It is dominated by mist bathed hills, trees of pine, oak, cedar and deodar, apple orchards, and a picturesque stream gushing through the valley, enabling visitors to connect with their rich, fresh surroundings and unwind.
A large number of adventure and leisure activities like rafting, paragliding, rock climbing, trekking, birdwatching and more such things to do in Mashobra lure travelers to this quaint hilly getaway.
Blessed with abundance of natural beauty, Mashobra is truly a mesmerizing point to fill your life with a treasure of love memories.
How to reach?
By air: The nearest airport to Mashobra is located at Shimla. The rest of the 12.7 km distance from Shimla to Mashobra can be covered by road in less than 45 minutes.
By train: The nearest railway station to Mashobra is the Shimla Railway Station. One can get down at the station and cover the rest of the distance to Mashobra by road.
By road: Mashobra is well connected to essentially all major cities of India by road. One can embark on a fun road trip to Mashobra from cities like Delhi, Chandigarh, Jaipur, Amritsar, Bangalore, Leh, & Mumbai.
Stay at Mashobra Greens
Cherish sometime with your dear one this romantic season. TripOffBeat is your Trusted Travel Partner for on-demand and special holiday breaks, offering you an Easy Selection of Handpicked & Verified Offbeat Stay options, backed by Personalized Service to give you 100% Delight every time, any time.
Don't wait; book your favorite destination to enjoy the upcoming Valentines Day. If you still want to ask something from the travel experts, help is just a call away. Call: +91-9990124333